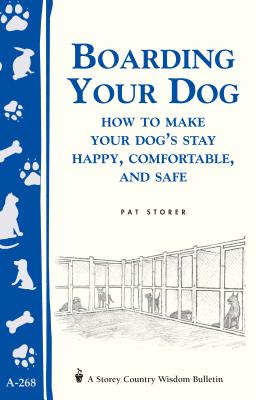 Boarding Your Dog (Paperback)
How to Make Your Dog's Stay Happy, Comfortable, and Safe: Storey's Country Wisdom Bulletin A-268
Storey Publishing, LLC, 9781580173582, 32pp.
Publication Date: January 1, 2001
* Individual store prices may vary.
Description
When you can't be at home, you need to find a safe, loving, cheerful place for your dog to stay. But how will you know that the people caring for your dog will do the job right, and how can you ensure that your dog will enjoy the stay? Pat Storer shows you how to select accommodations based on your dog's personality, interview and appraise kennel staff, prepare your dog for both short- and long-term stays at a kennel, teach your dog to look forward to kennel visits, and avoid common kennel health risks.

About the Author
Popular author of Your Puppy, Your Dog, Pat Storer has designed her book to guide both parents and children on the care of their furry family addition. She has trained dogs in herding, carting, weight pull, obedience, tracking, and schutzhund (protection). Additionally, she has been the leader of 4-H groups in domestic and animal sciences for many years. She is a member of the American Rottweiler Club, founded the Houston Area Rottweiler Fanciers, and was a former officer of each affiliation. Not only is she experienced with upbringing man's best friend--she also raises two breeds of AKC dogs--but Pat has owned an exotic animal ranch for over 25 years. Using this experience, she has been writing freelance articles and handbooks on various exotic animals for over 15 years. Pat has lectured on exotic animals and birds, and dog training and temperament at numerous expositions, sales club meetings and Purdue University. She currently lives in Columbus, Texas.
or
Not Currently Available for Direct Purchase