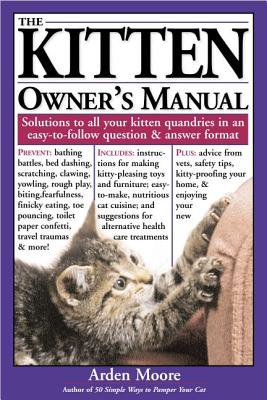 The Kitten Owner's Manual (Paperback)
Solutions to all Your Kitten Quandaries in an Easy-To-Follow Question and Answer Format
Storey Publishing, LLC, 9781580173872, 192pp.
Publication Date: March 1, 2001
* Individual store prices may vary.
Description
Kittens are the perfect combination of cute, cuddly, and crazed. They bring warmth to your lap and shower you with love, but these little balls of energy can be quite needy at times. In a handy question-and-answer format, Arden Moore offers dozens of practical tips to help you raise an indoor cat without losing your sanity. You'll learn techniques for preventing biting, selecting nutritious foods, making homemade kitty toys, and much more. Moore's expert advice is interspersed with anecdotes that showcase the joys cat ownership. 
About the Author
Arden Moore is the author of 20 books on cats and dogs, including The Cat Behavior Answer Book, The Dog Behavior Answer Book, and Real Food for Dogs. She is the editor of Fido Friendly magazine, editor of Catnip, an animal behavior consultant and host of "Oh Behave!", a weekly radio show on Pet Life Radio.com. She has appeared on Fox News, CNN Headline News, HGTV's "Smart Solution," Martha Stewart Living Radio, NPR and hundreds of radio and television programs. She is known as "America's Pet Edu-Tainer™" and gives pet talks throughout North America. Learn more by visiting her at www.ardenmoore.com.
Praise For The Kitten Owner's Manual: Solutions to all Your Kitten Quandaries in an Easy-To-Follow Question and Answer Format…
"Useful for rookies and experienced cat veterans alike, this book addresses numerous kitten care issues in a question-and-answer format." – Cats & Kittens magazine
"Find the solutions to all your kitten quandaries in a question-and-answer format…Arden Moore provides practical tips on topics such as controlling fleas, transporting a kitten, dealing with allergies and making peace between your kitten and other family pets." – Cat Fancy magazine