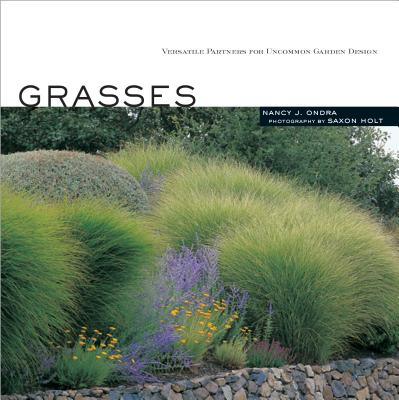 Grasses
Versatile Partners for Uncommon Garden Design
Paperback

* Individual store prices may vary.
Description
From the dazzling orange leaves of Flame Grass to the feathery purple haze of Switch Grass, ornamental grasses can add a vibrant and colorful dimension to any garden. Nancy J. Ondra shows you how to use grasses on their own or in tandem with perennials, annuals, and shrubs to add visual interest and texture to your outdoor space. Insightful profiles of dozens of varieties of ornamental grasses enlivened by Saxon Holt's stunning photography will inspire you to create your own dynamic, grass-filled gardens. 
Praise For Grasses: Versatile Partners for Uncommon Garden Design…
"Looking for handsome foliage, fascinating flowers and eye-catching fall color? Try Grasses…"
—Publishers Weekly
"Supported by Saxon Holt's captivating color photographs, Ondra [Nancy] elevates grasses from garden understudies to starring roles." —Booklist
"Grasses…one of the year's best new garden guides." —Country Living Gardener
"Beginning and advanced gardeners alike will find this book full of inspiration and advice on how to get the most from ornamental grasses." —Chicago Sun-Times
"Love ornamental grasses but don't know how to work them into your garden? This book offers design possibilities…" —Houston Chronicle
"Plenty of photos of the many grass choices can help you focus on varieties that mesh with your interests." – Milwaukee Journal Sentinel
"Illustrated with spectacular photos by Saxon Holt, Grasses focuses on design themes in landscapes throughout the seasons." —Indianapolis Star
" If your vision of grasses is limited to the wheat fields of Kansas, this book on ornamental grasses is sure to expand your horizons—and may even inspire you…" – Hartford Courant
Storey Publishing, LLC, 9781580174237, 144pp.
Publication Date: February 1, 2002
About the Author
Nancy J. Ondra, author of Container Theme Gardens, is a garden writer and editor as well as the former owner and operator of a small rare-plant nursery. She is the author or co-author of a dozen gardening books, including Foliage (winner of the 2008 Book Award from the American Horticultural Society), The Perennial Gardener's Design Primer (winner of a 2006 Silver Award from the Garden Writers Association), Five-Plant Gardens, The Perennial Care Manual, Fallscaping, and Grasses. She currently gardens in Bucks County, Pennsylvania, and blogs at www.hayefield.com.


Saxon Holt is a photojournalist who has spent more than 40 years exploring Kingdom Plantae and the fundamental importance of plants to the health of the planet. A lifelong gardener, he abandoned commercial photography when he discovered garden publishers and could no longer stay in a studio. His work has been featured in diverse publications, from Architectural Digest and Pacific Horticulture magazine, to Smithsonian and Money magazines.