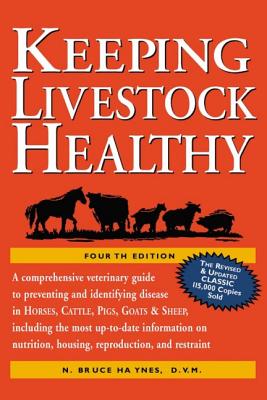 Keeping Livestock Healthy
A Veterinary Guide to Horses, Cattle, Pigs, Goats & Sheep, 4th Edition
Paperback

* Individual store prices may vary.
Other Editions of This Title:
Hardcover (11/1/2001)
Description
Offering expert advice on nutrition, proper housing, and routine maintenance, Keeping Livestock Healthy covers all the everyday medical care your horses, cattle, pigs, goats, and sheep are likely to require. From vaccines and artificial insemination to detecting and treating Lyme disease, Potomac fever, and bluetongue, you'll find everything you need to know to keep your animals healthy and thriving. Stressing preventative methods wherever possible, N. Bruce Haynes helps you reduce veterinary costs, increase your self-sufficiency, and boost the productivity of your livestock operation. 
Praise For Keeping Livestock Healthy: A Veterinary Guide to Horses, Cattle, Pigs, Goats & Sheep, 4th Edition…
"Keeping Livestock Healthy is a must for any serious livestock owner." – Journal of the American Veterinary Association
"A major contribution to available farm veterinary literature." – Small Farmer's Journal
"Dr. Haynes' book is not a do-it-yourself manual that gives directions for home treatment with no help on diagnosis. In fact, it might have been entitled 'Everything You Ever Wanted to Know About Livestock Disease But Didn't Know How or Whom to Ask.' It's a book that will be of value to any livestock owner." -- Doc Mettler, American Agriculturist
"…so admirable organized and indexed that its information is instantly available…. Whether your concern is strictly financial, simply sentimental, or both, you should find this book an absolute necessity in your livestock library." –Farmstead Magazine (no longer in publication)
"[Keeping Livestock Healthy] emphasizes the importance of good care for livestock…. [It is] useful for professional livestock producers and backyard animal raisers alike." – Farm Industry News
"…highly recommended to all livestock owners." – Modern Veterinary Practice (not sure if this is still being published. Might be in publication under a different name.)
Storey Publishing, LLC, 9781580174350, 352pp.
Publication Date: November 1, 2001