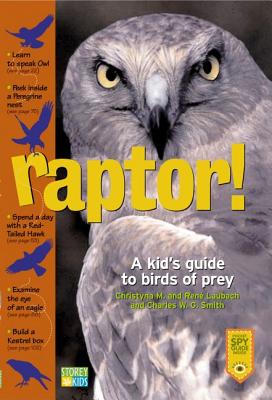 Raptor! (Paperback)
A Kid's Guide to Birds of Prey
Storey Publishing, LLC, 9781580174459, 128pp.
Publication Date: August 5, 2002
* Individual store prices may vary.
Description
Explore life at the top of the food chain with this exciting look into the world of raptors. This fun activity book immerses children in vulture culture, hawk talk, and owl prowls as they learn about the behavior and hunting strategies of these fascinating birds. A removable "pocket spy guide" will help kids identify raptors in the wild, while breed profiles, flight silhouettes, range maps, and real-life stories will satisfy even the most voracious raptor enthusiast. 
About the Author
Christyna M. Laubach is a high school science teacher in western Massachusetts. She is the co-author of Raptor!
Rene Laubach has served as Director of the Massachusetts Audubon Society's Berkshire Wildlife Sanctuaries since 1985. He is the co-author of Raptor! and lives in western Massachusetts.
A former horticulturalist for White Flower Farm, Charles W.G. Smith has also been an instructor of vocational agriculture. He has written about gardening and environmental issues for more than a decade. He is the author of The Beginner's Guide to Edible Herbs, The Weather-Resilient Garden, and Raptor!
Praise For Raptor!: A Kid's Guide to Birds of Prey…
"...a friendly, large guide to enjoying raptors in North America." – Morning News (KidsDay section), Dallas TX
"Bold, bright colors and awe-inspiring photography make this book come alive for young readers." – Library Media Connection, Worthington OH
"Kids any age will enjoy this book." – Union Tribune, San Diego CA
"This large-format book provides a fine overview of North American raptors..." – Booklist
"Charts, intriguing tidbits of trivia, and hands-on projects add interest and help readers understand these amazing creatures." – School Library Journal