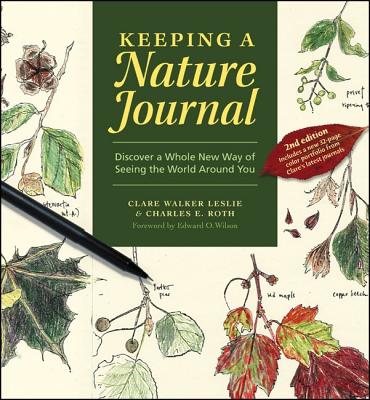 Keeping a Nature Journal (Paperback)
Discover a Whole New Way of Seeing the World Around You
Storey Publishing, LLC, 9781580174930, 224pp.
Publication Date: July 5, 2003
Other Editions of This Title:
Paperback (8/9/2000)
* Individual store prices may vary.
Description
Experience the splendor of nature with fresh eyes! Featuring an inspiring portfolio from Clare Walker Leslie's nature journals, this guide offers easy-to-learn techniques for capturing the world around you in pictures and words. Encouraging you to make journaling a part of your daily routine, Keeping a Nature Journal is full of engaging exercises and stimulating prompts that will help you hone your powers of observation and appreciate new aspects of nature's endlessly varied beauty.
About the Author
Clare Walker Leslie is a nationally known wildlife artist, author, and educator. She has been connecting people of all ages to nature using drawing, writing, and observation of the outdoors for more than 30 years. Her books include the bestsellers Keeping a Nature Journal and The Nature Connection, as well as The Curious Nature Guide, Nature Journal, and Drawn to Nature. She lives with her husband and family in Cambridge, Massachusetts, and Granville, Vermont.
Charles E. Roth is a teacher of science and the environment. He was Director of Education for the Massachusetts Audubon Society for many years and is active in numerous local, regional, and national environmental organizations. Besides authoring 20 books, Charles has received many awards including the Environmental Merit Award of the EPA. He resides in Massachusetts and New Hampshire.
Praise For Keeping a Nature Journal: Discover a Whole New Way of Seeing the World Around You…
"A wonderful book for young people, this book has also inspired this old gardener to go out and get one of those nice new sketchbooks … " — The New York Times
"Leslie's approachable methods for recording the natural world have inspired many people." — New Orleans Times-Picayune
" … a step-by-step guide to getting started in a fascinating hobby of recording on paper what you see in nature." — Cleveland Plain Dealer
"[C]oaches even beginners who think they cannot write or sketch but simply have a love of nature." — San Jose Mercury News
"… an excellent teaching tool on how to go about seeing the world in a new way." — Indianapolis Star
"This book was very motivating for me personally and I am ready to begin a nature journal. It could be used as a classroom supplement or a tool for personal professional development for all ages … a good resource for informal science organizations such as museums and camps." —NSTA Recommends (National Science Teachers' Association), www.nsta.org
"Here's a good gift book for gardeners, but also for non-gardeners who nevertheless enjoy communing with the great outdoors." — Nashville Tennessean
"Learn to observe nature closely, sketch with confidence, keep accurate records, narrate the changing seasons, and more. Highly recommended for those interested in art journals or nature studies." – Somerset Studio magazine