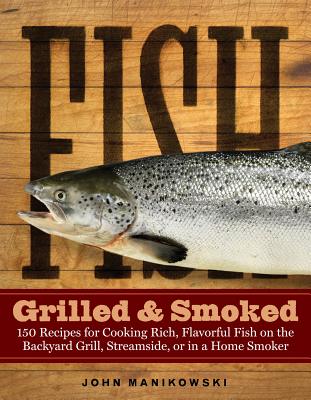 Fish Grilled & Smoked (Paperback)
150 Recipes for Cooking Rich, Flavorful Fish on the Backyard Grill, Streamside, or in a Home Smoker
Storey Publishing, LLC, 9781580175029, 264pp.
Publication Date: April 1, 2004
* Individual store prices may vary.
Description
Learn the best recipe for walleye, the subtlest way to smoke tuna, and a foolproof method for grilling bluefish. Master chef and fisherman John Manikowski presents 150 flavorful recipes for grilling and smoking freshwater and saltwater fish. In addition to tickling your taste buds, Manikowski provides step-by-step instructions for building a smoker of your own — on the grill, a backyard fire pit, or even in the wild. Wrap that smallmouth bass in cornhusks, soak that yellow perch in grapefruit marinade, and bring your appetite.
About the Author
The late John Manikowski, author of Fish Grilled & Smoked and Wild Fish & Game Cookbook, was born in northern Minnesota and began to hunt and fish when he was twelve. He was a partner in two popular restaurants that specialized in game -- Konkapot in Mill River, Massachusetts, and Charleston in Hudson, New York. His illustrations have been shown in galleries throughout the United States and have appeared in Fly Rod & Reel and Field & Stream. He wrote for several local newspapers and magazines about fishing, hunting, and the outdoors.
Praise For Fish Grilled & Smoked: 150 Recipes for Cooking Rich, Flavorful Fish on the Backyard Grill, Streamside, or in a Home Smoker…
"…a wide range of delectable, sophisticated recipes for fish and shellfish…"
-Library Journal
"…an excellent fish cookbook…"
-Cincinnati Post
"Master chef and angler John Manikowski serves up 150 freshwater and saltwater fish recipes that will make your tastebuds sing!"
-Daily News (Iron Mountain, MI)
"For the avid angler or the mere seafood lover, Fish Grilled and Smoked lends new ideas and various improvements on cooking both fresh and saltwater fish…"
-Big Game Fishing Journal
"…a book of foolproof methods for cooking in the back yard or the back country."
-Cookbook Digest
"Besides great recipes, the author teaches foolproof methods for smoking fish on your backyard grill, in smokers you can buy or build at home or in the wild."
-Small Farm Today
"…there are 150 easy-to-follow seafood recipes for saltwater and freshwater fish that will have you salivating."
-The Washington Times