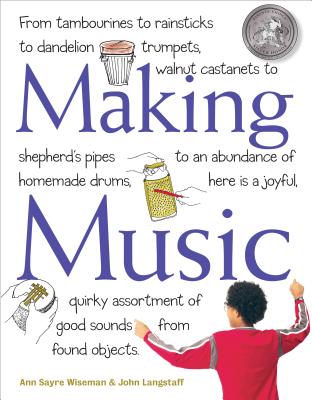 Making Music (Paperback)
From Tambourines to Rainsticks to Dandelion Trumpets, Walnut Castanets to Shepherd's Pipes to an Abundance of Homemade Drums, Here Is a Joyful, Quirky Assortment of Good Sounds from Found Objects
Storey Publishing, LLC, 9781580175128, 96pp.
Publication Date: October 15, 2003
Other Editions of This Title:
Hardcover (10/15/2003)
* Individual store prices may vary.
Description
Tune up a milk carton guitar and get ready for a kitchen concerto in the key of utensils major! Ann Sayre Wiseman and John Langstaff offer dozens of ideas that encourage children to unlock their musical creativity using everyday objects. Kids will be inspired as they turn a shower hose into a trumpet or pair zippers and Velcro to make their own percussion ensemble. With ideas for creating and playing more than 70 basic rhythm, string, wind, and keyboard instruments, the musical possibilities are endless. 
About the Author
The late John Langstaff was known internationally for his ability to unlock any child's innate musical ability. He was the founder of the original Christmas Revels in 1971 and devoted his life to promoting music education and enjoyment, especially for children. 
Ann Sayre Wiseman was an artist, teacher, and art therapist who led arts and crafts workshops around the world. She authored a dozen books, including Making Music (with John Langstaff).
Praise For Making Music: From Tambourines to Rainsticks to Dandelion Trumpets, Walnut Castanets to Shepherd's Pipes to an Abundance of Homemade Drums, Here Is a Joyful, Quirky Assortment of Good Sounds from Found Objects…
"…a terrific resource, not just for helping kids create their own instruments, but also for teaching the youngsters what to do with them." – Salt Lake City Tribune
"Not only does the book provide good information for instruments to make and give, it tells children how to create instruments from everyday objects around the house." – Florida Times-Union
"…Wiseman and Langstaff invite children to explores the world of music by showing them how to create their own instruments and rhythms." – School Library Journal
"…a teriffic resource, not just for helping kids create their own instruments, but also for teaching the youngsters what to do with them." – Salt Lake City Tribune
"Not only does the book provide good information for instruments to make and give, it tells children how to create instruments from everyday objects around the house." – Florida Times-Union
"…Wiseman and Langstaff invite children to explores the world of music by showing them how to create their own instruments and rhythms." – School Library Journal
or
Not Currently Available for Direct Purchase