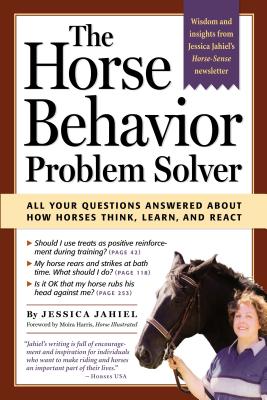 The Horse Behavior Problem Solver (Paperback)
All Your Questions Answered About How Horses Think, Learn, and React
Storey Publishing, LLC, 9781580175241, 416pp.
Publication Date: April 1, 2004
* Individual store prices may vary.
Description
Understanding your horse's behavior is an essential aspect of creating a mutual bond of trust, respect, and friendship. In a handy question-and-answer format, Dr. Jessica Jahiel explains the language and logic of how horses learn and communicate, enabling you to interpret and properly respond to your animal's quirky ways. From fear of the vet to unstoppable kicking, this guide provides proven techniques for helping your horse break bad habits, along with creative ideas for fostering a healthy relationship filled with love and affection.
About the Author
Jessica Jahiel is an internationally renowned lecturer, clinician, and award-winning author who answers equine-related questions in her online newsletter, Horse-Sense. She also responds to questions about horse behavior, riding matters, and anything else readers want to discuss in Horse & Rider, Equus, and Dressage Today, as well as in her best-selling books The Horse Behavior Problem Solver and The Rider's Problem Solver. Jahiel lives in Illinois.
Praise For The Horse Behavior Problem Solver: All Your Questions Answered About How Horses Think, Learn, and React…
"…filled with helpful information that will help you deal with your favorite equine friends." --American Small Farm
"A 'must-have' for your bookshelf and a great gift for horsey friends." -- Horsemen's Yankee Pedlar
"…fascinating, equally useful as a reference piece or to read straight through." --Horsemen's Yankee Pedlar
"Whether you're looking to solve a particular problem, or just learn more about why horses do what they do, this volume is a handy and entertaining reference." -- Horse & Rider