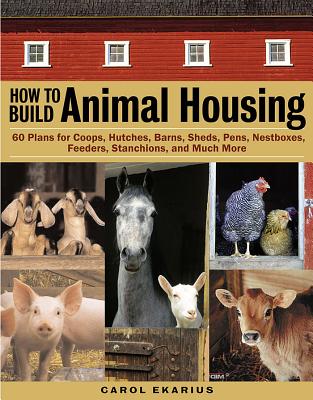 How to Build Animal Housing (Paperback)
60 Plans for Coops, Hutches, Barns, Sheds, Pens, Nestboxes, Feeders, Stanchions, and Much More
Storey Publishing, LLC, 9781580175272, 272pp.
Publication Date: May 1, 2004
* Individual store prices may vary.
Description
With dozens of adaptable plans for sheds, coops, hutches, multipurpose barns, windbreaks, and shade structures, this guide covers everything you need to know to build safe and sturdy housing for your animals. Stressing the importance of evaluating your goals, planning ahead, and budgeting accordingly, Carol Ekarius helps you determine the best structure for your particular situation and offers expert advice on tools and construction techniques. Build a functional and comfortable house for your animals that they'll be proud to call home.
About the Author
Carol Ekarius is the coauthor of The Fleece & Fiber Sourcebook, The Field Guide to Fleece, and Storey's Guide to Raising Sheep, and the author of several books including Small-Scale Livestock Farming, Storey's Illustrated Guide to Poultry Breeds, and Storey's Illustrated Breed Guide to Sheep, Goats, Cattle, and Pigs. She lives in the mountains of Colorado.
 
Praise For How to Build Animal Housing: 60 Plans for Coops, Hutches, Barns, Sheds, Pens, Nestboxes, Feeders, Stanchions, and Much More…
"Whether you are building a movable horse shelter on skids or a chicken coop or a traditional gambrel barn, the multitude of plans in this book can give you information to work with." – American Quarter Horse Journal
"A well illustrated guide to building portable shelters, stables large and small, barns of all sizes and types, shade structures, backyard pens… [A] great buy." – American Small Farm (2004)
"Carol Ekarius, a farmer herself, has compiled some excellent plans for coops, hutches, barns, sheds, pens, nest boxes, feeders, stanchions, and much more. This book is extremely well illustrated with line drawings and construction call outs for all projects." – American Small Farm (2007)
"A broad and well-rounded overview of what's needed in the way of animal shelter, with a practiced ete toward planning and budgeting." – Back Home
"Containing 60 plans for coops, hutches, barns, sheds, pens, nest boxes, stanchions and much more, this is a great book for building projects. …This is the place to start if you need some buildings, sheds, or barns." – Small Farm Today