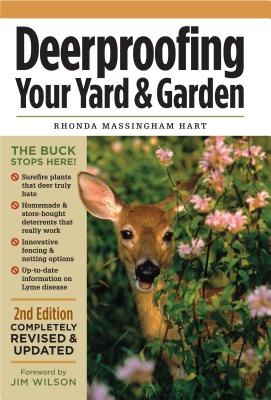 Deerproofing Your Yard & Garden (Paperback)
Storey Publishing, LLC, 9781580175852, 208pp.
Publication Date: April 15, 2005
* Individual store prices may vary.
Description
From nibbling on fruit bushes to destroying flower beds, unwanted deer pose a frustrating and challenging obstacle to even the most patient gardeners. Rhonda Massingham Hart provides insights into deer behavior and offers a variety of proven techniques to keep your deer problem under control. Learn how to choose the best fence types, landscape with plants deer detest, make effective homemade repellents, and much more. You'll have all the information you need to maintain a pristine, deer-free landscape. 
About the Author
Rhonda Massingham Hart is a master gardener and the author of several books including Vertical Vegetables & Fruit, The Dirt-Cheap Green Thumb, and Deerproofing Your Yard & Garden. She has written articles for a variety of magazines, including Flower & Garden, Woman's Day, and Fine Gardening. She writes extensively on organic gardening techniques and lives in Washington State.
Praise For Deerproofing Your Yard & Garden…
"…a practical…paperback that offers beleaguered homeowners advice on designing a garden that deer will find unappealing." --Country Living
"This paperback book tells you…how to confuse deer and how to design a landscape that deer won't like." --Austin American-Statesman
"The book teaches you how to create a landscape to deter deer, which deer products work, and which ones don't." --Des Moines Register
"This handy guide offers steps to make gardens less appetizing using effective, environmentally responsible techniques." --Indianapolis Star

"Hart…not only gives deer-proofing ideas, but she explains deer behavior and preferences so readers can better under what attracts and deters the animals." --Akron Beacon Journal

"…Hart helps homeowners develop a strategy to discourage uninvited diners…" --Akron Beacon Journal
"…Hart's compilation of research, product information, and source lists is sure to be valued by those dealing with this problem . . . highly recommended for public libraries, particularly in suburban and rural locations." --Library Journal
"If deer raids on the garden are a problem, here is the solution." --Booklist