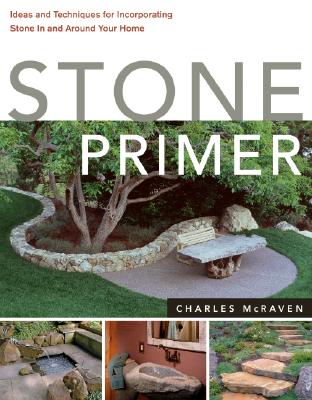 Stone Primer (Hardcover)
Storey Publishing, LLC, 9781580176699, 272pp.
Publication Date: July 30, 2007
Other Editions of This Title:
Paperback (7/30/2007)
* Individual store prices may vary.
Description
Charles McRaven, a dedicated stonemason for more than 50 years, brings his practical experience and deep respect for the material to The Stone Primer, the essential guide for homeowners interested in adding stone to any setting, indoors or out. Here is everything readers will want to consider when beginning a do-it-yourself project, hiring a professional stonemason to carry out a difficult design, or simply planning and dreaming in stone.

Know the properties of common types of stone. Choose, collect, and move the right stones for the project. Place them in perfect layers, make them fit with the proper tools, and learn the basics of drystacking and mortaring. McRaven covers it all in detailed how-to chapters, embellished with anecdotes, historical tidbits, and profiles of noted masons.

Following the basic techniques are dozens of projects to browse for inspiration or use as practical guidance. Designs for the home include everything from structural masonry (stone foundations, columns, and chimneys) to interior accents (fireplaces, hearths, floors, and countertops). Landscaping uses include flagstone pathways and patios, several kinds of walls, water features, gazebos, bridges, and even stone sheds and houses. Full-color photographs and illustrations provide how-to sequences for the budding stonemason and inspirational images for anyone interested in bringing the weight and permanence of stone to the home.
About the Author
Charles McRaven is a stonemason and blacksmith, nationally known for building and repairing dozens of stone structures and log homes. He has written extensively on stone, including the books Building with Stone and Stonework, and articles for Country Journal, Fine Homebuilding, and many regional magazines. He lectures and conducts workshops and private courses in stone construction. Charles lives in Virginia.
Praise For Stone Primer…
"Handsomely illustrated with drawings and photographs that include the work of prominent craftsmen and women, this book provides its readers with the knowledge to create basic stone structures and critique the work of craftsmen."
Current Books on Gardening and Botany
"Stone Primer offers both ideas and guidance to homeowners interested in utilizing stone, indoors and out."
Michigan Gardener
"…illustrates the inspirational and practical ways to build with stone."
Home & Design Magazine
"Stone is a common material that can create things of uncommon beauty. Charles McRaven celebrates the artistry behind those accomplishments in Stone Primer."
Akron Beacon-Journal
"McRaven offers the guidance you need to make your stone dreams a reality."
Countryside and Small Stock Journal
"With a very insightful discussion on types of stone and its properties, [Stone Primer] is peppered with great tips and insights."
Library Journal
"There's subliminally appealing about a first-rate book on stonework, and Stone Primer is just that….Stone Primer is an uncommon find."
BackHome
or
Not Currently Available for Direct Purchase