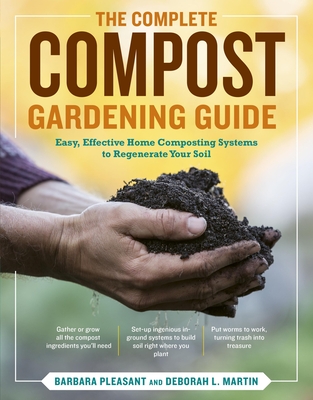 The Complete Compost Gardening Guide
Banner batches, grow heaps, comforter compost, and other amazing techniques for saving time and money, and producing the most flavorful, nutritous vegetables ever.
Paperback

* Individual store prices may vary.
Other Editions of This Title:
Hardcover (2/13/2008)
Description
Develop mature compost right in your garden. Barbara Pleasant and Deborah Martin explain their six-way compost gardening system in this informative guide that will have you rethinking how you create and use your compost. With your plants and compost living together from the beginning, your garden will become a nourishing and organic environment that encourages growth and sustainability. You'll also find that the enriched soil requires less tending, weeding, and mulching, so you can do less back-breaking work for the same lush, beautiful results. 
Storey Publishing, LLC, 9781580177023, 320pp.
Publication Date: February 13, 2008
About the Author
A long-time compost enthusiast, Deb Martin enjoys trying new and different ways to transform organic materials into rich, soil-building goodness for the garden. From the busy binful of worms in her basement to the pallet-framed yard waste heap out back, she always has something rotten going on! A garden writer and editor for many years, Deb has contributed to numerous books and magazines, including Organic Life, Pennsylvania Gardener, and GROW: The Magazine of the Pennsylvania Horticultural Society, and is co-author of The Complete Compost Gardening Guide.
 
Barbara Pleasant has been covering organic gardening and self-sufficient living for more than 30 years. A contributing editor to Mother Earth News, Pleasant has garnered multiple awards from the Garden Writers Association and the American Nursery and Landscape Association. She has written books on topics ranging from compost to weeds, including Homegrown Pantry, Starter Vegetable Gardens, The Complete Compost Gardening Guide (with Deborah L. Martin), The Complete Houseplant Survival Manual, The Gardener's Bug Book, The Gardener's Weed Book, The Gardener's Guide to Plant Diseases, and Garden Stone. Her columns and articles appear regularly in Mother Earth Living magazine and at GrowVeg.com and on other informational websites. Pleasant lives in Virginia, where she grows vegetables, herbs, and fruits along with a few chickens, who all have names.