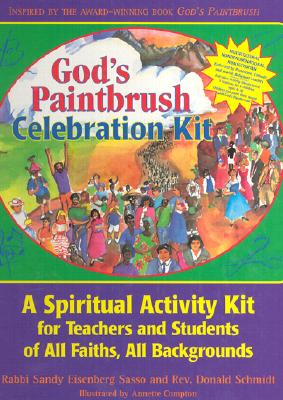 God's Paintbrush Celebration Kit
A Spiritual Activity Kit
Hardcover

* Individual store prices may vary.
Description
Multicultural, Nondenominational, Nonsectarian
Endorsed by Protestant, Catholic and Jewish Religious Leaders
A Spiritual Activity Kit for Teachers and Students of All Faiths, All Backgrounds
For the first time, Protestant, Catholic and Jewish children can study, play and learn from the same religious education resource. The God's Paintbrush Celebration Kit--inspired by the award-winning book God's Paintbrush--will help you spark the imagination of your students to think creatively about themselves and the world.
Completely nonsectarian, the God's Paintbrush Celebration Kit can be used in a variety of settings and environments, such as vacation Bible school, Sabbath morning children's service, Sunday school or a day-long or weekend retreat.
Each activity sheet includes the use of crafts, games and other indoor and outdoor activities designed to encourage your students to think about God in new and exciting ways. The Teacher Folder contains instructions and additional suggestions to make every session an extra-special spiritual learning experience.
Session Topics
What is God Like?
Seeing
Hearing and Speaking
Touching
Doing
Biblical Texts Explored
Psalm 100:1-2; Psalm 150
Genesis 1:31; Psalm 34:8
Psalm 29:3-4; 1 Kings 19:12
Isaiah 66:13
Deuteronomy 6:4-9
Includes 40 Full-Color Activity Sheets and Teacher Folder with Complete Instructions
Jewish Lights Publishing, 9781580230506, 40pp.
Publication Date: May 1, 1999