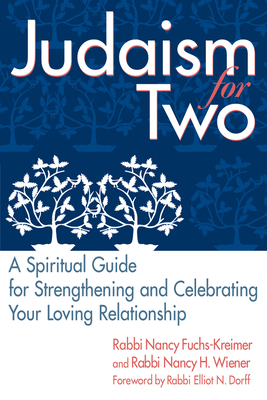 Judaism for Two
A Spiritual Guide for Strengthening & Celebrating Your Loving Relationship
Paperback

* Individual store prices may vary.
Other Editions of This Title:
Hardcover (5/1/2005)
Description
The Special Times of the Jewish Year Can Be a Framework for Your Life as a Couple
"Through the holiday cycle we have seen that life is a complex weave of light and darkness, bitter and sweet, striving and surrendering. The twisted candle reminds us that as a couple our two lives have become intertwined as one. Two souls enter a partnership, interwoven yet always distinct, joined by a third strand, the Divine Presence. As we perform the ritual of Havdalah, we hold our hands up to the flame and catch the reflection of the last light on our fingertips. We pray that the light will continue to shine through our words and deeds, in our homes and in the world."
--from Chapter 9
More than just calendar commitments, the Jewish holidays carry with them a view of what is important in life, a set of assumptions that can challenge and deepen the way we think about relationships.
This inspiring and practical guidebook helps you to understand your life as a couple in the context of the themes of Jewish holidays (Yom Kippur, Purim, Pesah, Sukkot, Shabbat):
Forgiving and Growing
Playing, Laughing and Taking Risks
Coming Home, Finding Freedom
Blessing Bounty, Facing Impermanence
Pausing to Bless What Is
... and more
Drawing from ancient and contemporary texts, Jewish tradition and personal stories, Rabbi Nancy Fuchs-Kreimer and Rabbi Nancy H. Wiener provide creative exercises, rituals and guided discussions that help you make connections to tradition, community and each other. By experiencing the Jewish holidays as times to focus on your relationship, you'll find renewed meaning in these holy celebrations and new opportunities for spiritual growth all year long.
Jewish Lights Publishing, 9781580232548, 224pp.
Publication Date: May 1, 2005