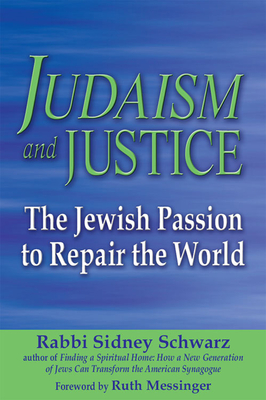 Judaism and Justice (Hardcover)
The Jewish Passion to Repair the World
Jewish Lights Publishing, 9781580233125, 312pp.
Publication Date: September 1, 2006
* Individual store prices may vary.
Description
From Judaism's rich history of prophetic justice comes an inspiring call to action.
Why is it that Jews are so involved in causes dedicated to justice, equality, human rights and peace? Are these trends influenced by religion, history, sociology or something else?
In this provocative exploration, Rabbi Sidney Schwarz, founder and president of PANIM: The Institute for Jewish Leadership and Values, sheds light on the relationship between Judaism, social justice and the Jewish identity of American Jews. He traces how the idea of justice, as developed in the sacred texts of Judaism, conditions Jewish attitudes and behavior. In a fascinating portrayal of some of the major issues facing the Jewish community in the last fifty years, Schwarz explores a community torn between its instincts for self-preservation and its desire to serve as an ethical "light to the nations."
This powerful and empowering book will provide you with a starting point for meaningful engagement--and a new way to understand Jewish identity.
About the Author
Rabbi Sidney Schwarz is a social entrepreneur, an author and a political activist. He founded and led PANIM: The Institute for Jewish Leadership and Values for twenty-one years. He is also the founding rabbi of Adat Shalom Reconstructionist Congregation in Bethesda, Maryland, where he continues to teach and lead services. Currently, he serves as a senior fellow at Clal-The National Jewish Center for Learning and Leadership where he is involved in a program that trains rabbis to be visionary spiritual leaders. He is the author of Jewish Megatrends: Charting the Course of the American Jewish Future; Finding a Spiritual Home: How a New Generation of Jews Can Transform the American Synagogue and Judaism and Justice: The Jewish Passion to Repair the World.Rabbi Sidney Schwarz is available to speak on the following topics: Jewish Megatrends: Charting the Course of the American Jewish FutureTribal vs. Covenantal Identity: Jews and the American Public SquareFinding a Spiritual Home: Redefining the Religious EnterpriseReaching the Jewish Community of the 21st Century: Educating for Jewish CitizenshipBetween Conscience and SolidarityCan Social Justice Save the Jewish Soul?Click here to contact the author.