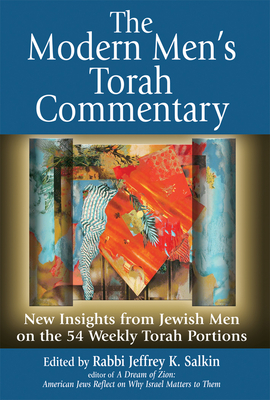 The Modern Men's Torah Commentary
New Insights from Jewish Men on the 54 Weekly Torah Portions
Hardcover

* Individual store prices may vary.
Other Editions of This Title:
Paperback (4/1/2009)
Description
Reconnect with the power and promise of engagement with Torah--from a modern men's perspective.
This major contribution to modern biblical commentary addresses the most important concerns of modern men--issues like relationships, sexuality, ambition, work and career, body image, aging and life passages--by opening them up to the messages of the Torah. It includes commentaries by some of the most creative and influential rabbis, cantors, journalists, media figures, educators, professors, authors, communal leaders and musicians in contemporary Jewish life, and represents all denominations in Judaism. Featuring poignant and probing reflections on the weekly Torah portions, this collection shows men how the messages of the Torah intersect with their own lives by focusing on modern men's issues.
Ideal for anyone wanting a new, exciting view of Torah, this rich resource offers perspectives to inspire all of us to gain deeper meaning from the Torah as well as a heightened appreciation of Judaism and its relevance to our lives.
Contributors Rabbi Howard A. Addison - Rabbi Bradley Shavit Artson - Doug Barden - Rabbi Tony Bayfield, DD - Ariel Beery - Rabbi Joseph Black - Rabbi Mitchell Chefitz - Dr. Norman J. Cohen - Rabbi Mike Comins - Rabbi Elliot N. Dorff, PhD - Rabbi Dan Ehrenkrantz - Rabbi Dov Peretz Elkins - Rabbi Edward Feinstein - Rabbi Mordecai Finley, PhD - Wayne L. Firestone - Rabbi David J. Gelfand - Dr. Sander L. Gilman - Ari L. Goldman - Rabbi Daniel Gordis, PhD - Rabbi Arthur Green - Rabbi Steven Greenberg - Joel Lurie Grishaver - Rabbi Donniel Hartman, PhD - Rabbi Hayim Herring, PhD - Peter Himmelman - Rabbi Walter Homolka, PhD - Rabbi Reuven Kimelman - Rabbi Elliott Kleinman - Cantor Jeff Klepper - Rabbi Peter S. Knobel - Rabbi Harold S. Kushner - Rabbi Daniel Landes - Rabbi Steven Z. Leder - Prof. Julius Lester - Rabbi Robert N. Levine, DD - Rabbi Joseph B. Meszler - Rabbi John Moscowitz - Rabbi Perry Netter - Rabbi Kerry M. Olitzky - Rabbi Stephen S. Pearce, PhD - Rabbi Daniel F. Polish - Dennis Prager - Rabbi Jack Riemer - Rabbi Stephen B. Roberts - Rabbi David B. Rosen - Rabbi Jeffrey K. Salkin - Rabbi Sidney Schwarz, PhD - Rabbi Rami Shapiro - Rabbi Charles Simon - Rabbi Elie Kaplan Spitz - Craig Taubman - Rabbi Levi Weiman-Kelman - Rabbi Simkha Y. Weintraub - Rabbi Avraham (Avi) Weiss - Dr. Ron Wolfson - Rabbi David J. Wolpe - Rabbi David Woznica - Rabbi Sheldon Zimmerman - Rabbi Daniel G. Zemel
Jewish Lights Publishing, 9781580233958, 331pp.
Publication Date: May 1, 2009