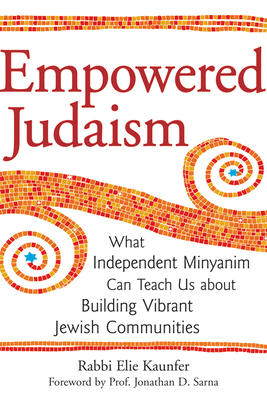 Empowered Judaism
What Independent Minyanim Can Teach Us about Building Vibrant Jewish Communities
Paperback

* Individual store prices may vary.
Other Editions of This Title:
Hardcover (2/1/2010)
Description
The inside story and practical lessons from one of the most exciting developments in contemporary Judaism.
"Part description and part prescription, Empowered Judaism is a manifesto for transforming the way Jews pray and--more broadly--for building vibrant Jewish communities.... It] represents the latest chapter in an] uplifting history of religious creativity. This is a book that every Jewish leader will want to read and every serious Jew will want to contemplate."
--from the Foreword by Prof. Jonathan D. Sarna
Why have thousands of young Jews, otherwise unengaged with formal Jewish life, started more than sixty innovative prayer communities across the United States? What crucial insights can these grassroots communities provide for all of us?
Rabbi Elie Kaunfer, one of the leaders of this revolutionary phenomenon, offers refreshingly new analyses of the age-old question of how to build strong Jewish community. He explores the independent minyan movement and the lessons it has to teach about prayer, community organizing and volunteer leadership and its implications for contemporary struggles in American Judaism.
Along with describing the growth of independent minyanim across the country, he examines:
The roles of liturgy, space, music and youth in this new approach to prayer
Lessons to be learned from the concept of immersive, intensive Jewish learning in an egalitarian context
Jewish values in which we must invest to achieve a vibrant, robust American Jewish landscape for the twenty-first century
Jewish Lights Publishing, 9781580234122, 196pp.
Publication Date: April 1, 2010