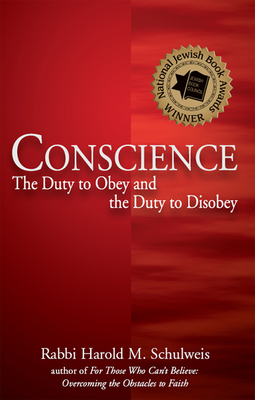 Conscience (Paperback)
The Duty to Obey and the Duty to Disobey
Jewish Lights Publishing, 9781580234191, 131pp.
Publication Date: April 15, 2010
Other Editions of This Title:
Hardcover (10/1/2008)
* Individual store prices may vary.
Description
A Profound and Stirring Call to Action in Our Troubled World--from One of America's Great Religious Leaders
"Conscience may be understood as the hidden inner compass that guides our lives and must be searched for and recovered repeatedly. At no time more than our own is this need to retrieve the shards of broken conscience more urgent."
--from the Introduction
This clarion call to rethink our moral and political behavior examines the idea of conscience and the role conscience plays in our relationships to government, law, ethics, religion, human nature and God--and to each other. From Abraham to Abu Ghraib, from the dissenting prophets to Darfur, Rabbi Harold Schulweis probes history, the Bible and the works of contemporary thinkers for ideas about both critical disobedience and uncritical obedience. He illuminates the potential for evil and the potential for good that rests within us as individuals and as a society.
By questioning religion's capacity--and will--to break from mindless conformity, Rabbi Schulweis challenges us to counter our current suppressive culture of obedience with the culture of moral compassion, and to fulfill religion's obligation to make room for and carry out courageous moral dissent.