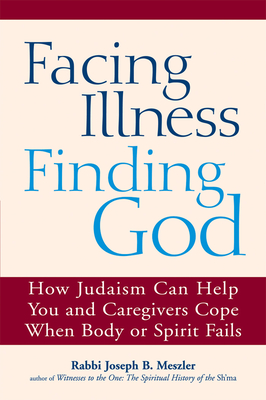 Facing Illness, Finding God (Paperback)
How Judaism Can Help You and Caregivers Cope When Body or Spirit Fails
Jewish Lights Publishing, 9781580234238, 180pp.
Publication Date: January 15, 2010
* Individual store prices may vary.
Description
Find spiritual strength for healing in the wisdom of Jewish tradition.
Whether you are facing illness yourself, serving as a caregiver, providing pastoral care, or simply wondering where God is when we get sick, the teachings and wisdom of Jewish tradition can help you cope with the difficulties of illness and infirmity.
With a format designed to accommodate the stressful life of people dealing with illness, Rabbi Joseph B. Meszler helps you focus on spiritual well-being as an essential aspect of physical healing and wholeness. He provides comfort and inspiration to help you maintain personal balance and family harmony amid the fear, pain, and chaos of illness. Combining the stories of real people with insights from Jewish sources, he offers practical advice and spiritual guidance for:
Reaching inward to the soul when the body fails
Reaching outward to provide strength, comfort and compassion to the ill or infirm
Reaching upward to God through prayer and daily gratitude