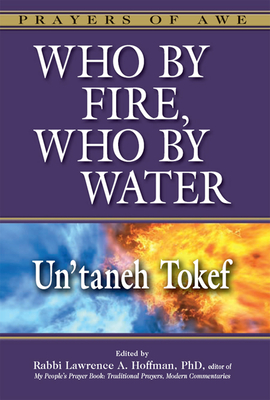 Who by Fire, Who by Water
Un'taneh Tokef (Prayers of Awe)
Hardcover

* Individual store prices may vary.
Other Editions of This Title:
Paperback (7/1/2013)
Description
The most controversial prayer of the Jewish New Year-what it means, who wrote it, why we say it.
Over forty contributors who span three continents and all major Jewish denominations examine Un'taneh Tokef's theology, authorship, and poetry through a set of lively commentaries. Men and women, scholars and rabbis, artists and poets trace the history of Un'taneh Tokef and connect the prayer to its biblical and rabbinic roots. They wrestle with the personal and community impact of its deeply moving imagery, probe its haunting message of human mortality, and reflect on its call for sanctity, transformation and renewal.
Prayers of Awe: A multi-volume series designed to explore the High Holy Day liturgy and enrich the praying experience for everyone-whether experienced worshipers or guests who encounter Jewish prayer for the very first time.
Contributors:
Merri Lovinger Arian
Rabbi Tony Bayfield, DD
Rabbi Sharon Brous
Dr. Marc Brettler
Dr. Erica Brown
Rabbi Ruth Durchslag, PsyD
Rabbi Edward Feinstein
Rabbi Elyse D. Frishman
Rabbi Andrew Goldstein, PhD
Dr. Joel M. Hoffman
Rabbi Delphine Horvilleur
Rabbi Elie Kaunfer
Rabbi Karyn D. Kedar
Dr. Reuven Kimelman
Rabbi Lawrence Kushner
Rabbi Noa Kushner
Rabbi Daniel Landes
Rabbi Ruth Langer, PhD
Liz Lerman
Rabbi Asher Lopatin
Catherine Madsen
Rabbi Jonathan Magonet, PhD
Rabbi Dalia Marx, PhD
Ruth Messinger
Rabbi Charles H. Middleburgh, PhD
Rabbi Rachel Nussbaum
Rabbi Aaron Panken, PhD
Rabbi Or N. Rose
Rabbi Marc Saperstein, PhD
Rabbi Sandy Eisenberg Sasso
Rabbi Jonathan P. Slater, DMin
Rabbi Brent Chaim Spodek
Rabbi David Stern
Rabbi David A. Teutsch, PhD
Rabbi Gordon Tucker, PhD
Dr. Ellen M. Umansky
Rabbi Avraham Weiss
Rabbi Margaret Moers Wenig, DD
Dr. Ron Wolfson
Rabbi David J. Wolpe
Rabbi Daniel G. Zemel
Dr. Wendy Zierler
Jewish Lights Publishing, 9781580234245, 274pp.
Publication Date: March 1, 2010
About the Author
Rabbi Lawrence A. Hoffman, PhD, has served for more than three decades as professor of liturgy at Hebrew Union College-Jewish Institute of Religion in New York. He is a world-renowned liturgist and holder of the Stephen and Barbara Friedman Chair in Liturgy, Worship and Ritual. His work combines research in Jewish ritual, worship and spirituality with a passion for the spiritual renewal of contemporary Judaism.His many books, written and edited, include seven volumes in the Prayers of Awe series: Who by Fire, Who by Water-Un'taneh Tokef; All These Vows-Kol Nidre; We Have Sinned: Sin and Confession in Judaism-Ashamnu and Al Chet; May God Remember: Memory and Memorializing in Judaism-Yizkor; All the World: Universalism, Particularism and the High Holy Days; Naming God: Avinu Malkeinu-Our Father, Our King; and Encountering God: El Rachum V'chanun-God Merciful and Gracious. Hoffman also edited the ten-volume series My People's Prayer Book: Traditional Prayers, Modern Commentaries, winner of the National Jewish Book Award; and coedited My People's Passover Haggadah: Traditional Texts, Modern Commentaries, a finalist for the National Jewish Book Award (all Jewish Lights).Rabbi Hoffman cofounded and developed Synagogue 2/3000, a transdenominational project to envision and implement the ideal synagogue of the spirit for the twenty-first century. In that capacity, he wrote Rethinking Synagogues: A New Vocabulary for Congregational Life (Jewish Lights).