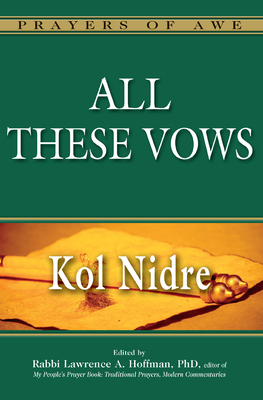 All These Vows--Kol Nidre (Prayers of Awe)
Hardcover

* Individual store prices may vary.
Other Editions of This Title:
Paperback (8/1/2011)
Description
The most memorable prayer of the Jewish New Year--what it means, why we sing it, and the secret of its magical appeal.
Through a series of lively commentaries, over thirty contributors--men and women, scholars and rabbis, artists and poets, spanning three continents and all major Jewish denominations--examine Kol Nidre's theology, usage, and deeply personal impact. They trace the actual history of the prayer and attempts through the ages to emend it, downplay it and even do away with it--all in vain. They explore why Kol Nidre remains an annual liturgical highlight that is regularly attended even by Jews who disbelieve everything the prayer says.
Prayers of Awe
An exciting new series that examines the High Holy Day liturgy to enrich the praying experience of everyone--whether experienced worshipers or guests who encounter Jewish prayer for the very first time.
Contributors:
Rabbi Tony Bayfield, CBE, DD - Dr. Annette M. Boeckler - Dr. Marc Zvi Brettler - Dr. Erica Brown - Dr. Eliezer Diamond - Rabbi Ruth Durchslag, PsyD - Rachel Farbiarz - Rabbi Edward Feinstein - Rabbi Shoshana Boyd Gelfand - Rabbi Andrew Goldstein, PhD - Rabbi Lawrence A. Hoffman, PhD - Rabbi Delphine Horvilleur - Rabbi Elie Kaunfer - Rabbi Karyn D. Kedar - Dr. Reuven Kimelman - Dr. Mark Kligman - Rabbi Lawrence Kushner - Rabbi Noa Kushner - Rabbi Daniel Landes - Liz Lerman - Catherine Madsen - Rabbi Jonathan Magonet, PhD - Rabbi Dalia Marx, PhD - Ruth Messinger - Rabbi Charles H. Middleburgh, PhD - Rabbi Rachel Nussbaum - Rabbi Aaron Panken, PhD - Rabbi Marc Saperstein, PhD - Rabbi Sandy Eisenberg Sasso - Rabbi Jonathan P. Slater, DMin - Rabbi David Stern - Rabbi David A. Teutsch, PhD - Dr. Ellen M. Umansky - Rabbi Margaret Moers Wenig, DD - Dr. Ron Wolfson - Rabbi Daniel G. Zemel - Dr. Wendy Zierler
Jewish Lights Publishing, 9781580234306, 264pp.
Publication Date: August 1, 2011