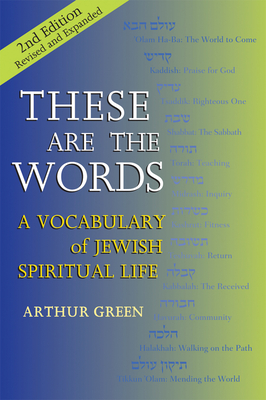 These Are the Words (2nd Edition)
A Vocabulary of Jewish Spiritual Life
Paperback

* Individual store prices may vary.
Other Editions of This Title:
Hardcover (3/1/2012)
Description
The basic vocabulary of Jewish spiritual life, explained with humor, insight and relevance to guide you on a historical and spiritual journey through Judaism.
Judaism itself is a language, a group's way of expressing beliefs, longings, aspirations and dreams. The vocabulary of Jewish life is the framework that Jews use to hand their past down to their children. It is also the vocabulary that people of other faiths need to know to understand Judaism and Jewish life.
In this revised, expanded, highly readable, enlightening and entertaining new edition of "the ultimate Jewish primer," one of the greatest spiritual teachers of our time takes readers--Jews and non-Jews alike--on a historical and spiritual journey through Judaism. Dr. Arthur Green explains the meaning, history and origin of over 150 core Hebrew words that are shared and understood throughout the Jewish world. With humor, insight and relevance, he lays out the basic vocabulary of Jewish communal and religious identity and shows why it is important for people to know and use these words in Hebrew.
Jewish Lights Publishing, 9781580234948, 308pp.
Publication Date: March 1, 2012