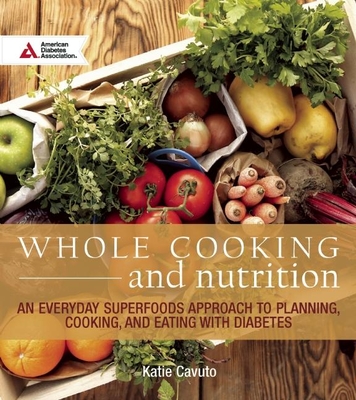 Whole Cooking and Nutrition (Paperback)
An Everyday Superfoods Approach to Planning, Cooking, and Eating with Diabetes
American Diabetes Association, 9781580406093, 256pp.
Publication Date: September 13, 2016
* Individual store prices may vary.
Description
Enough of the dieting and deprivation It's time to embrace the joy of eating well with an intention that healthy foods are nourishing, sustaining and delicious. Whole Cooking and Nutrition shifts the conversation away from dieting to one of positive messages and gratifying intentions. The result is a book packed with information to help readers improve their relationship with food, turning a spotlight on 85 every day foods that maximize flavor and boast rich nutrient density that will inspire you to live a healthy lifestyle With more than 150 vibrant, flavorful recipes, this cookbook promotes a mindful, pleasurable approach to eating. For decades people with diabetes and other ailments have been taught to adhere to strict, uninspired diets eschewing taste in favor of health; this book promotes a healthy lifestyle and, more importantly, restores the joy of eating. With a focus on whole foods--Katie aims to empower readers to get into the kitchen to create her approachable and delicious recipes that are nourishing whether you have diabetes or not.
About the Author
Katie Cavuto, MS, RD, is a Philadelphia-based dietitian, chef, and wellness advocate. Katie believes that health is about more than what you eat; she promotes self-love, food enjoyment, mindfulness, and gratitude. Katie appears in regular nutrition and cooking segments on local and national television. Her writing and recipes have been showcased nationally in several magazines including, Eating Well; Rachel Ray Every Day; The Huffington Post; Parents; and more. Katie is the dietitian for the Philadelphia Flyers and Phillies and the nutrition advisor for Unite for HER, an organization that supports and empowers newly diagnosed breast cancer patients. She is the creator of the blog, Nourish.Breathe.Thrive.