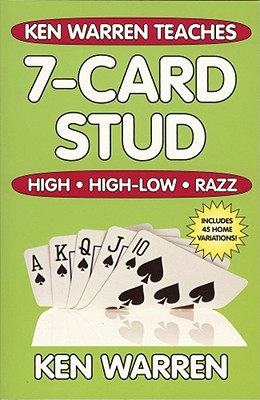 Ken Warren Teaches 7-Card Stud (Paperback)
High - High-Low - Razz
Cardoza Publishing, 9781580422215, 240pp.
Publication Date: February 12, 2008
* Individual store prices may vary.
Description
This book is a step-by-step manual shows beginning and low-limit players -- 95% of the 7-stud players -- how to make making money at seven card stud and helps somewhat experienced players change their results from losers to winners. Clear and concise chapters take the reader from the rules of the game and basics of play, to how to play third through seventh streets in high, low (razz) and high-low variations. Chapters include starting cards, playing position, which hands to play to the end, raising, check-raising, tells, game and seat selection, seven card stud odds, keeping records, pot odds, bluffing, reading hands, psychology of poker and more.. A great book for low limit players.
About the Author
Ken Warren is the one of the best-selling poker authors of all time. He's the author of Winner's Guide to Texas Hold'Em Poker, and five other books. In August 1992, Warren played in and won the very first hand of legal poker dealt in Mississippi in the 20th century.
or
Not Currently Available for Direct Purchase