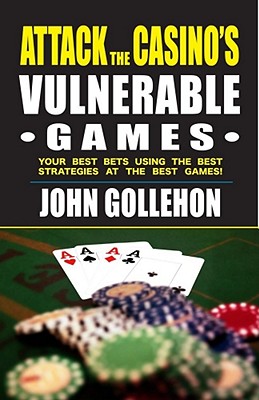 Attack the Casino's Vulnerable Games (Paperback)
Cardoza Publishing, 9781580423045, 208pp.
Publication Date: March 6, 2012
* Individual store prices may vary.
Description
Bestselling author and gambling expert John Gollehon shows readers the best bets, games, and strategies to win big. This new edition is completely redesigned with new charts and the latest winning information. Readers get rock-solid advice on how to maximize their chances of winning at the games the casinos are most vulnerable to. In blackjack, players learn Gollehon's patented assault technique; in video poker, how to increase royals by 20 percent; in hold'em, the solid strategies for average players to win money; in craps, the money bets and how to squeeze the most profit from them; and in games prone to betting systems, the complete Power Progressive strategy. Revised and updated, the new version of Attack the Casino's Vulnerable Games shares the latest moneymaking strategies on how to win money from the casinos.
About the Author
John Gollehon is a bestselling author of more than twenty gambling titles. He is more than an expert player; he is a trusted authority who has taught millions how to win. His gambling books, many of which are classics, have been on shelves for more than three decades.
or
Not Currently Available for Direct Purchase