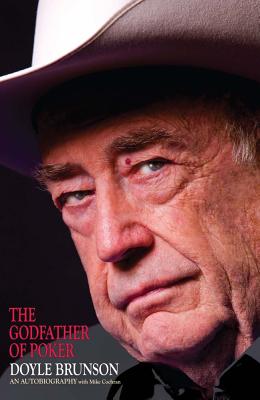 The Godfather of Poker
Paperback

* Individual store prices may vary.
Other Editions of This Title:
Hardcover (11/10/2009)
Description
Fascinating true-life adventure of an American treasure, a man who bluffed death, survived the mean streets of Fort Worth and mob-run Las Vegas, and bet millions of dollars on everything from poker to golf, to become a two-time world champion poker player. The story of Doyle Brunson, an American treasure and the greatest poker player of all time, is one for the ages. It's a story of guts and glory, of good luck and bad, of triumph and unspeakable tragedy, of courage and grace. He has survived whippings, gun fights, stabbings, mobsters (the real-life ones portrayed in the movie Casino), murderers, and a death sentence when, riddled with incurable cancer, he was given months to live by doctors who told him his hand was played out. Apparently, fate had never played poker with Brunson--he lived. Of a group of 32 men he played poker with in the tough alleys of Texas, just he and one other survived the treacherous perils of that life. A master of the bluff, his most outrageous bluff came after being pistol-whipped and told he's going to die with a gunman pointing a pistol at his forehead. Again, he lived. He's gambled for millions of dollars--and with his life against the real-life mobsters and killers made famous in the movie Casino--and was the biggest sports bettor in the world with a reputation of betting enormous sums of money on just about anything. Doyle has not only made more money at golf than anyone else until Tiger Woods came along, he once bet one million dollars on a single hole--that, when he was virtually wheelchair-bound and could barely stand. He's been hard-up flat broke more times than he's got fingers and has won millions of dollars just as many times. Brunson has seen it all: from the athletic dreams and a leg shattered by a freak injury which waylaid his path to the NBA (he was drafted by the Lakers), to the devastating death of his first-born daughter, to outrageous exploits like trying to discover Noah's Ark and raise the Titanic. Doyle's rollercoaster of a life defines the saying: Truth is stranger than fiction. Twice a winner of the prestigious World Series of Poker in Las Vegas, he's won millions and lost millions--sometimes in seconds--but decidedly more of the former than the latter. Brunson can still be found playing in the highest stakes poker games in the world, often with as much as one million dollars in front of him. To every one of the 250 million people worldwide who play poker each year, Doyle Brunson, is the legendary "Babe Ruth of Poker"--the greatest gambler and poker player who has ever lived.
Cardoza Publishing, 9781580423076, 384pp.
Publication Date: May 29, 2012
About the Author
Doyle 'Texas Dolly' Brunson, an American treasure, transcends the game of poker, where he is a two-time World Series of Poker champion and a living legend. He is the author of the best-selling "bible" of poker, Doyle Brunson's Super System and its sequel, Super System 2, and three other books including Poker Wisdom of a Champion. Mike Cochran, an award-winning AP reporter and three-time nominee for the Pulitzer Prize, grew up several miles from Doyle Brunson, and spent 39 years with the international news service roving Texas, interviewing its offbeat characters and reporting on its darkest crimes and deepest secrets. Cochran has won a Katie award (for his book Shattered), six Headliner awards, two Headliners' Star Reporter of the Year, the AP Managing Editors Top Performance Award, and the prestigious Stanley Walker journalism award in 1987 and 1991. He's written six books including And Deliver Us From Evil, a trilogy of true-crime stories, the inspiration for a CBS Television movie, Fugitive Among Us, starring Eric Roberts and Peter Strauss. His latest book, Claytie, about Texas rancher/wildcatter/politico Clayton Williams was the best-selling title ever published by Texas A&M Univ. Press.