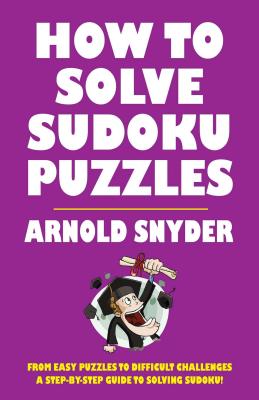 How to Solve Sudoku Puzzles (Paperback)
A Player's Guide to Solving Easy and Difficult Puzzles
Cardoza Publishing, 9781580423373, 192pp.
Publication Date: July 12, 2016
* Individual store prices may vary.
Description
Readers learn the secrets of solving difficult sudoku puzzles with a step-by-step approach that goes from easy to extremely difficult. Master gamesmith, Arnold Snyder, presents a step-by-step approach to attacking Sudoku with simple tips and tricks to help readers solve the puzzles faster Easy-to-follow move-by-move solution examples help readers identify the key patterns essential to success. Snyder goes beyond the superficial solution approach of other Sudoku titles, showing players never-before-published solutions to conquer the puzzles-- using the same approach that has made him a best-seller in the field of gaming. Includes 100 free puzzles from easy to challenging to very dificult so readers can practice their newly learned skills.
About the Author
Arnold Snyder, a gaming hall-of-famer, best-selling author, and master gamesmith, is a Sudoku expert and author of seven highly acclaimed Sudoku books. He has been writing about gaming for over three decades and is the best-selling author of more than a dozen books.