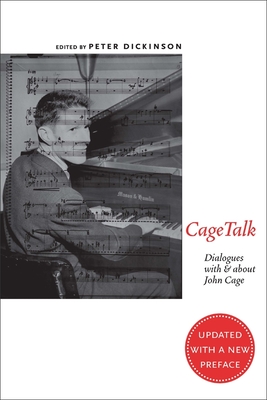 Cagetalk (Paperback)
Dialogues with and about John Cage (Eastman Studies in Music)
University of Rochester Press, 9781580465090, 304pp.
Publication Date: May 15, 2014
Other Editions of This Title:
Hardcover (3/30/2007)
* Individual store prices may vary.
Description
John Cage, one of America's most renowned composers from the 1940s until his death in 1992, was also a much-admired writer and artist, and a uniquely attractive personality able to present his ideas engagingly wherever he went.BR> In CageTalk: Dialogues with and about John Cage, Peter Dickinson showcases a collection of vividly revealing and unpublished interviews given by Cage in the late 1980s for a BBC Radio 3 documentary. For this paperback edition, Dickinson presents a new preface noting developments in Cage criticism since the book's publication in 2006, updated comments from several of the original interviewees, and a new interview with Christian Wolff. CageTalk also features earlier BBC interviews with Cage, including ones by renowned literary critic Frank Kermode and art critic David Sylvester. In addition, there are discussions of Cage with Bonnie Bird, Earle Brown, Merce Cunningham, Minna Lederman, Otto Luening, Jackson Mac Low, Peadar Mercier, Pauline Oliveros, John Rockwell, Kurt Schwertsik, Karlheinz Stockhausen, Virgil Thomson, David Tudor, LaMonte Young, and Paul Zukovsky. Most of these interviews were given to Peter Dickinson but there are others in which with Rebecca Boyle, Anthony Cheevers, Michael Oliver, and Roger Smalley were the interviewers. Peter Dickinson, British composer and pianist, is Emeritus Professor, University of Keele and University of London, and has written or edited several books about twentieth-century music, including Copland Connotations (Boydell Press, 2002) and The Music of Lennox Berkeley (Boydell Press, 2003).