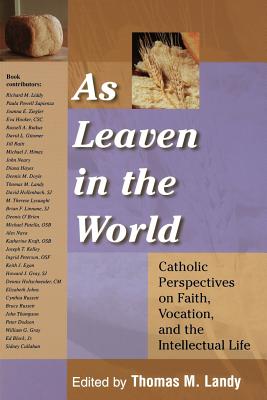 As Leaven in the World (Paperback)
Catholic Perspectives on Faith, Vocation, and the Intellectual Life (Catholic Studies)
Sheed & Ward, 9781580510899, 463pp.
Publication Date: September 1, 2001
* Individual store prices may vary.
Description
Illuminating essays by passionate and well-recognized American Catholic intellectuals on the interaction between faith and work. Divided into four parts--Five Opportunities, Marks of the Faith, Spiritualities, Discipleship and Practices--As Leaven in the World visions Catholicism as a cultural force that shapes morality, the arts, creativity, cultural conversation, social justice, spirituality, and vocation. And it invites educational leaders and intellectuals to take seriously their vocation--indeed, their holy work--of teaching others how to see, listen, hear, understand, and engage the world from a Catholic perspective.
About the Author
Tom Landy is founder/director of Collegium, a sociologist, and a faculty member and Assistant to the Dean at the College of the Holy Cross. He has published a number of scholarly and popular articles and is a Contributing Editor of Commonweal.