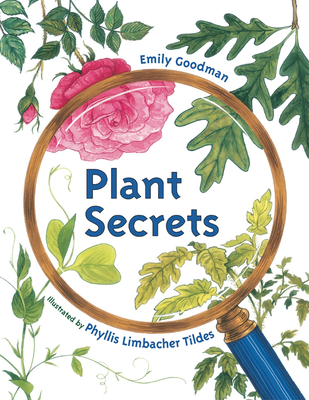 Plant Secrets (Paperback)
Charlesbridge, 9781580892056, 40pp.
Publication Date: February 1, 2009
Other Editions of This Title:
Hardcover (2/1/2009)
* Individual store prices may vary.
Description
Young scientists will love this nature mystery that reveals the secrets hiding in seeds, plants, flowers, and fruits throughout the life cycle of various flora. Curiosity will bloom in this introduction to botany and primary nature science.

Plants come in all shapes and sizes, but they go through the same stages as they grow. Using four common plants, young readers learn about plant structure and life cycle. Simple text and colorful, detailed illustrations show the major phases of plant growth with each stage holding a "secret" for curious readers to guess.  Back matter offers more information on each plant, as well as greater detail on each stage of growth.
About the Author
Emily Goodman, a trained horticulturist, has written for many children's magazines, including Highlights and Apple Seeds. She lives in Brooklyn, New York.
Praise For Plant Secrets…
Seeds, plants, flowers, fruit. Did you know all of these have secrets? Shown a selection of seeds readers are told, "But all of these seeds have a secret." A turn of the page and the secret is revealed: "Hidden inside each seed is a tiny new plant." The next sections similarly cover plants, then flowers and fruit. Although a variety of plant materials are shown, the focus throughout narrows to pea, tomato, oak, and rose. Employing a repetitive secret-sharing theme, this very simple introduction to botany combines brief, succinct text with attractive, detailed gouche illustrations. By not specifically identifying which plant, seed or flower is which among the four profiled varieties, readers are given the opportunity to make their own educated guesses. After the last delicious secret is revealed--that seeds are hidden inside each fruit--a more detailed afterword provides additional information about the four types of plants that were covered. Brief enough to appeal even to toddlers, this excellent effort also includes sufficient information to entertain and instruct young grade-schoolers.

—Kirkus Reviews