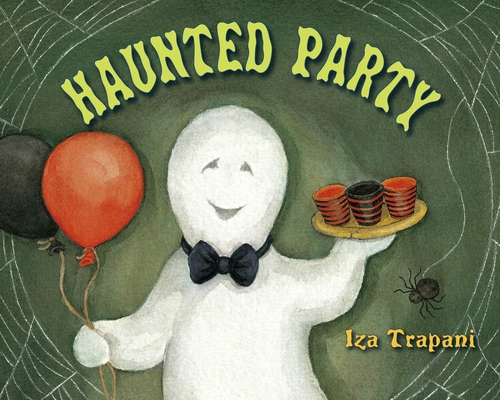 Haunted Party (Paperback)
Charlesbridge, 9781580892476, 28pp.
Publication Date: July 1, 2010
Other Editions of This Title:
Hardcover (7/1/2009)
* Individual store prices may vary.
Description
Count up and down for Halloween fun!

This humorous, rhyming book invites readers to count eerie party guests one through ten as they arrive at the haunted house of their ghostly host. Mummies and monsters, werewolves and witches, vampires and ghouls show up group by group to round out the festivities. These classic creatures party the night away, but when the guests are frightened by a group of young trick-or-treaters, readers count backwards as they depart. A surprise ending offers a delightfully spooky twist.

Filled with Halloween party traditions, Iza Trapani's playful art is a treat for all.
About the Author
Iza Trapani is the best-selling author/illustrator of several children's books, including TWINKLE, TWINKLE, LITTLE STAR; I'M A LITTLE TEAPOT; THE ITSY BITSY SPIDER; and RUFUS AND FRIENDS: RHYME TIME. She lives in the Hudson Valley of New York.
Praise For Haunted Party…
A muted (but nicely contrasted) palette and creepy creatures inhabit this Halloween counting book: "3 gruesome goblins, gross and green,/With pointy ears that aren't too clean,/Enjoy some really mean cuisine/At the haunted house of the ghost." As skeletons boogie, vampires dunk for apples (dexterously speared on their fangs), and mummies play pin the tail on the monster, the ghost host serves ghoulish treats and sweeps up after the voluminously shedding werewolves. The growing melee makes counting each arriving group as challenging as it is entertaining. The party is a rollicking success-until the arrival of 10 adorable trick-or-treaters, who terrify the guests into a quick countdown as "9 morbid mummies flee and hide./8 wretched witches zoom outside./7 mean monsters tremble with fear./6 ghastly ghouls try to disappear" and so on, right down to the single ghost who has a surprise in store for readers. This funny, warmly illustrated rhyme makes an entertaining choice for holiday storytimes.

—School Library Journal