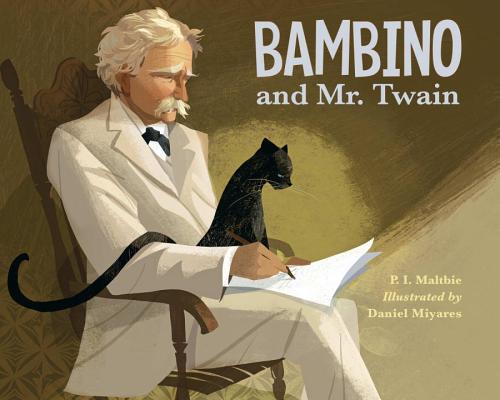 Bambino and Mr. Twain (Hardcover)
Charlesbridge, 9781580892728, 40pp.
Publication Date: February 1, 2012
Other Editions of This Title:
Paperback (5/7/2019)
* Individual store prices may vary.
Description
LOST
Mark Twain's Cat

After the death of his beloved wife, Samuel Clemens—known to his fans as Mark Twain—holed himself up in his house, too sad to face the outside world. His constant companion in his grief was Bambino, his daughter Clara's cat. Despite the pleas of his daughter Jean and the well wishes of his friends and admirers, Sam could not find joy in life. His only peace was in the moments he spent with the curious cat.

Then one day Bambino got out of the house to chase a squirrel and didn't come back. Distraught, Sam placed an ad in the newspaper offering a reward for Bambino's return. Many people with many cats came to his door. The world wanted to cheer up Mark Twain. No cat but Bambino could console the great writer, however.

Rich, luminous illustrations highlight this friendship of a man and his cat in a time of great sorrow and through his healing. Nothing compares to the solace of a pet.
About the Author
P.I. Maltbie writes biographical stories and articles focusing on issues related to disabilities. She is the author of PICASSO AND MINOU and BAMBINO AND MR TWAIN. She lives in Long Beach, California.