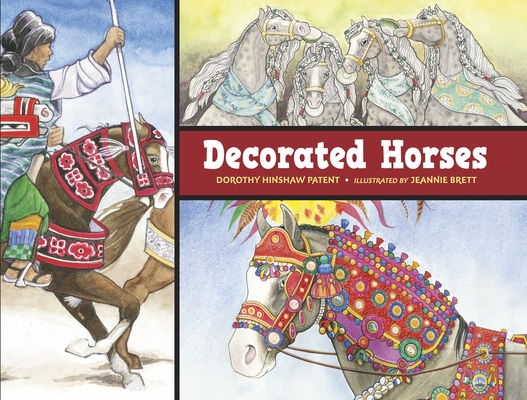 Decorated Horses (Hardcover)
Charlesbridge, 9781580893626, 48pp.
Publication Date: February 10, 2015
* Individual store prices may vary.
Description
Humans have relied on the strength, speed, and endurance of the horse for more than nine thousand years, utilizing them for work, warfare, entertainment, and companionship. Throughout history, humans have shown how much they admire and respect these animals through decoration and embellishment.
Divided into three sections—Warfare and Hunting, Performance and Competition, and Ceremony and Celebration—this book introduces readers to the many ways humans have used and honored horses. Their decorations highlight how important horses are to various people, from the symbolic paintings that the Plains Indians used to decorate their battle and hunting companions to silks and flowers awarded to thoroughbreds in competition to the colorful, playful costumes adorning the horses that pull painted carts through the streets of Sicily to honor saints.
Jeannie Brett's action-packed illustrations highlight the beauty and care that humans have taken when creating decoration for their horses, incorporating cultural significance, celebratory beauty, and respected ferocity.
About the Author
Dorothy Hinshaw Patent has published more than one hundred science and nature books for children, including When the Wolves Returned: Restoring Nature's Balance in Yellowstone (Walker, 2008), The Buffalo and the Indians: A Shared History (Clarion, 2006), and Big Cats (Walker, 2005). You can read more about her body of work at www.dorothyhinshawpatent.com.
Praise For Decorated Horses…
This informational picture book provides a fascinating history of how humans have trained, interacted with, and decorated horses. Examples include chariot horses, samurai mounts, and racehorses. The work begins with a general introduction and then goes on to three sections: "Warfare and Hunting," "Performance and Competition," and "Ceremony and Celebration." For each type of horse, readers will find two or three paragraphs of descriptive, engaging text about its history. The watercolor illustrations focus on the horses, while the depictions of people and background activities are less detailed. Labeled pictures of the animal's anatomy and tack are a good resource for those less familiar with the subject. VERDICT An interesting, though brief overview of horses of possible use for social studies or history lessons. A supplemental purchase.
-School Library Journal

This colorfully illustrated volume notes that humans domesticated horses more than 9,000 years ago and discusses how various cultures have equipped and decorated horses for different purposes. The book's three thematic sections are "Warfare and Hunting," "Performance and Competition," and "Ceremony and Celebration." Each double-page spread includes several paragraphs of information on the use and adornment of horses in particular cultures. For example, the first section includes ancient Assyrian chariot horses wearing elaborate headdresses into battle (1800 BCE), thirteenth-century Mongol warriors' mounts covered by armor, and nineteenth-century American Indians' horses painted with symbols for power and protection. The remaining sections also feature a broad range of historical cultures, including modern examples such as the garland of roses draped over a Kentucky Derby winner. Illustrating the informative text are full-page watercolor paintings enhanced with gouache, pastel, and colored pencil. A satisfying choice for kids who love horses, this well-researched book will carry them beyond their immediate interest and into the broader sphere of world history.
-Booklist