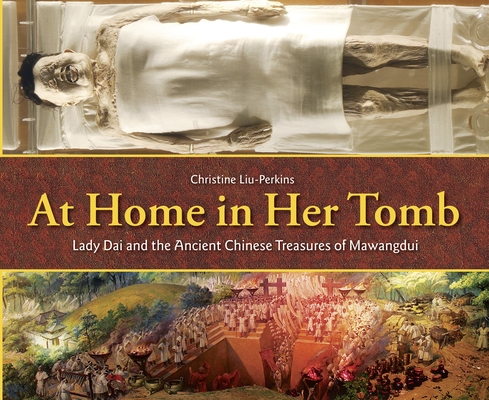 At Home in Her Tomb (Hardcover)
Lady Dai and the Ancient Chinese Treasures of Mawangdui
Charlesbridge, 9781580893701, 80pp.
Publication Date: April 8, 2014
* Individual store prices may vary.
Description
Unearth the mysteries of the Mawangdui tombs and take a sneak peek at life in Han dynasty China!

This middle-grade chapter book unearths one of China's top archaeological finds of the last century. Miniature servants, mysterious silk paintings, scrolls of long-lost secrets, and the best preserved mummy in the world (the body of Lady Dai) are just some of the artifacts that shed light upon life in China 2200 years ago. Illustrations include archival photographs as well as gorgeously rendered illustrations of Lady Dai's life. 

Back matter includes historical notes on the Qin and Han Dynasties, a time line, glossary, author's note, bibliography, quotation sources, and an index.
About the Author
Christine Liu-Perkins has written about Chinese history and culture for Highlights for Children and Dig magazines. This is her first book. Christine lives in Colorado.
Praise For At Home in Her Tomb: Lady Dai and the Ancient Chinese Treasures of Mawangdui…
*Debut author Liu-Perkins' infectious curiosity shines in this exploration of a Han dynasty burial chamber excavated in 1972. The "best preserved body in the world." This honor goes to no ordinary mummy. It belongs to the remains of one Chinese woman known as the Marchioness of Dai, or Lady Dai. Buried beneath two hills called Mawangdui, Lady Dai's tomb held three nobles: the marquis Li Cang, his wife, Lady Dai, and apparently one of their sons. As archaeologists dug through layers of white clay and charcoal, they uncovered more than 3,000 "astonishingly well-preserved" artifacts. Most amazing of all was Lady Dai's body. After being buried for almost 2,200 years, her skin remained moist, her joints were movable, and her finger- and toeprints were still discernible. Other rare finds included an elaborate silk painting called a feiyi and the oldest and largest stash of silk books ever discovered in China. Based on 14 years of extensive research, the author's storytelling is clear, inviting and filled with awe, as if she's right there alongside the dig experts. Fictionalized vignettes of Lady Dai's life that introduce each chapter add charm and perspective. Artifact photographs and illustrations heighten the fascination. In particular, Brannen's illustration of Lady Dai's chamber of multiple, nested coffins demonstrates the creative ingenuity of these ancient embalmers.
Move over King Tut. Lady Dai is in the house.
-Kirkus Reviews, *starred review

In 1972, archaeologists made an astonishing find at a site called Mawangdui near Changsha, China. Inside an ornate coffin nested three other elaborate ones, and wrapped in many layers of fine silk lay the body of a woman, buried for over two millennia but whose skin was soft and supple. Buried with her were many treasures, including foodstuffs that, amazingly, looked fresh enough to be eaten upon discovery. More than a year later, two other tombs within the same burial chamber were unearthed–-those of the woman's husband and son, though their remains were far more degraded. In time, the woman was identified as "Lady Dai," the name by which she is now commonly known, the widow of the Marquis of Dai, a high official during the Han Dynasty. Her story makes for fascinating reading. The writing is accessible, and each of the well-organized chapters delineates all the treasures that were found in Lady Dai's and her son's tombs–-and how the finds have brought the world of ancient China to vivid, illuminating life. Chapters open with an illustration and an imagined scene written in the present tense–-a device the author has used to bring readers directly into Lady Dai's world. Budding forensic scientists will appreciate the information and pertinent photographs about how the woman's body was preserved after her death in 158 BCE and about the modern-day autopsy performed on her. The book benefits from handsome design: photographs are of high quality, and illustrations, maps, and diagrams are attractive and helpful. This volume will serve as an interesting browser and as a fine supplementary resource in units on ancient China.
-School Library Journal

Methane gas and a layer of white clay were tip-offs that laborers building an air raid shelter in 1971 Hunan Province had made a critical discovery. Formal excavations soon began which uncovered the two thousand year old tombs of the emperor appointed marquis Li Cang, his wife Xin Zhui, and one of their sons. All the tombs yielded priceless grave goods, but that of the wife, known by the honorific Lady Dai, also held her remarkably intact remains, so well-preserved that tissue was soft, joints somewhat flexible, and even stomach contents full of undigested melon seeds. Liu-Perkins is a knowledgeable and enthusiastic docent, leading readers through the particulars of the excavation and reveling in the enormous amount of information the find revealed about the Qin and early Han periods, which had been presumed to be forever lost to object decay and human destruction. Books that scholars had only known from references in other works were unearthed, along with musical instruments still playable, silk maps still readable, game boards still playable (if only we knew all the rules), foods still aromatic, and equally important, a cadaver that could be fully autopsied. The author supports her neatly organized chapters with brief, conjectural musings on Lady Dai's life, plenty of diagrams and photographs, a glossary with Chinese pronunciations, a dual timeline of Chinese and Changsha (Li Cang's kingdom) history during the relevant period, quotation sources, bibliography, index, and a substantive history of Chinese unification under the first emperors. This material will be a boon for archaeology fans who have exhausted standard library offerings on Middle Eastern and occidental mummies and excavations, as well as a vital resource for collections that are top-heavy on the Great Wall and the Terracotta Army.
-The Bulletin of the Center for Children's Books

*There is quite a good selection of youth titles that deal with archaeological finds, but this well-researched book about a remarkable discovery takes readers somewhere they've never been before: China, 150 years before the time of Christ. Although the two mounds that look like a saddle have been a focal point in the Changsha area of south-central China for more than 2,000 years, it wasn't until 1971 that archaeologists began excavating these ancient tombs, and what they uncovered was astounding. The books made of bamboo, the lacquer dishes, the carved wooden servants--all would have been priceless finds on their own. But there was also a body of a woman so well preserved that her skin was still soft and pliable. During an autopsy, doctors found they could discern her illnesses and what she had had for her last meal! And this was no anonymous woman. Artifacts gave her name and her position: she was Lady Dai, the wife of a high official during the early Han dynasty. Liu-Perkins does an excellent job of making kids care about this discovery (well, the photo of Lady Dai's remains does draw them in). Just as important, she explains a wide variety of topics--silk making and funeral practices, to name a few--easily packing in a great deal more information. Delicate original art juxtaposes well with the many photos of artifacts, making this a handsome as well as an intriguing offer.
-Booklist, *starred review
or
Not Currently Available for Direct Purchase