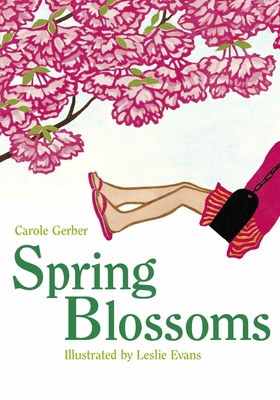 Spring Blossoms
Hardcover

* Individual store prices may vary.
Other Editions of This Title:
Paperback (2/10/2015)
Description
Spring is in the air—and in the trees!

Spring is here, and with the new season come trees full of life, color. . .and blossoms! From the creators of Leaf Jumpers and Winter Trees, Spring Blossoms introduces readers to a variety of different flowering trees.

During a stroll through the forest, two children come across the small and white flowers on a crab apple tree, the rich, red buds on a red maple, and many more. Along the way, readers learn that some trees have both male and female flowers—each with a distinctive appearance. Back matter includes extended botanical facts and more information about trees and their life cycles.

Told in lyrical rhymes with beautiful linoleum-cut illustrations, Spring Blossoms offers a unique blend of science, poetry, and art studies.
Praise For Spring Blossoms…
The third in a seasonal series by Gerber and Evans (Winter Trees, 2008, etc.), this picture book presents 10 different spring-blooming trees.

Two young girls hold hands and skip out into a new spring day. "Spring is bursting out all over. / The sun is up. It's warm. Let's go! // Trees, so bare and plain in winter, / are dressed up for their yearly show." Gerber's gentle and informative text moves gracefully through the pages, providing descriptions of flowering trees. The dogwood and crab-apple flowers are easily recognized. Less familiar are the white oak and magnolia tree blossoms. Four of the examples show the difference between the male and female flowers (white oak, white pine, balsam fir and beech). Children unaware of the distinction might become distracted from the rhythm of the book and ask questions. Unfortunately, there are few answers in the poetic text. The ending pages show all the blossoms on one page, followed by a description of the transformation of trees in the spring, which includes a paragraph on male and female flowers. Evan's block-print-and-watercolor artwork provides clean and colorful images of the blossoms, although the medium seems to work better with the snow scenes and evergreens of the duo's Winter Trees.

An artistic seasonal book, best appreciated by flower lovers.
—Kirkus Reviews

This homage to spring trees packs a good deal of information into lightly rhymed verse, but it's the lush art that will attract children immediately. Two girls take readers through a garden, pointing out trees like the white dogwood, which "wears a frosty crown," or the cherry flowers that grow in bundles, "like small bouquets on long, stout stems." Children may be puzzled a bit by the terms male and female flowers, but an author's note explains what that implies and how pollen, which goes from the male to the female, perpetuates the tree's life cycle. The illustrations--linoleum block print, watercolor, and collage--have a three-dimensional look that is especially appealing when a two-page spread consists only of buds of flowers on a branch set against a cool white page. The last images--rain falling and setting loose "a storm of blossoms"--is a fitting, exuberant way to end a book that brings the essence of spring to life.
—Booklist

An ode to the beauty of the season, this book is a catalogue of flowering trees that will charm children. Written in rhyming couplets, Gerber's spare text leaves plenty of room on the page for Evans's luscious bursts of color, including all the fresh pinks and greens one would witness on a fine spring day. Information is embedded in the poetry, such as the fact that some trees contain both male and female flowers: "White pine's male flowers, small and yellow,/grow in clusters near branch tips./Female flowers bloom weeks later./They're tinged with red, like slender lips." Back matter and clearly labeled illustrations help to make this a unique contribution to informational literature. Given the new Common Core priorities, this book is real plus.
—School Library Journal
Charlesbridge, 9781580894128, 32pp.
Publication Date: February 1, 2013
About the Author
Carole Gerber's picture book Winter Trees was selected as a 2009 Outstanding Trade Book by the National Science Association and the Children's Book Council. Carole holds a B.S. in English education and an M.A. in journalism from Ohio State University. She enjoys sharing her books with children through the Greater Columbus Arts Council Artists in Schools program.

Leslie Evans was raised in Michigan and later trained as a printmaker at the Rhode Island School of Design. When time allows she enjoys developing her own projects including calendars, prints, books and broadsides under her imprint, the Sea Dog Press. She has illustrated many books including Leaf Jumpers, The Yummy Alphabet Book, and the Alphabet Acrostic series (Clarion). Leslie lives in Watertown, Massachusetts, where she delights in her daily walks along the Charles river with her dog, Clyde.
or
Not Currently Available for Direct Purchase