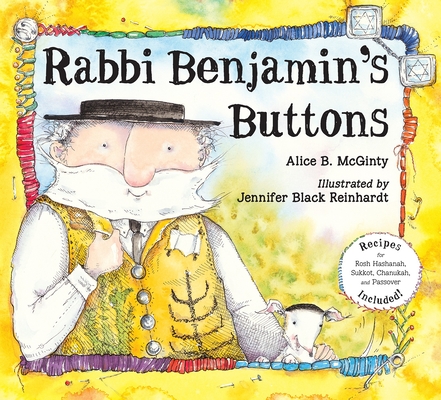 Rabbi Benjamin's Buttons (Paperback)
Charlesbridge, 9781580894333, 32pp.
Publication Date: March 7, 2017
Other Editions of This Title:
Hardcover (8/5/2014)
* Individual store prices may vary.
Description
Rabbi Benjamin loves his congregation, and they love him. That's why on Rosh Hashanah, the Jewish New Year, the Rabbi's congregation presents him with a special holiday vest with four silver buttons and decorated with designs symbolizing the major holidays celebrated throughout the year. Rabbi Benjamin loves it! He also loves all the holiday treats that his families proudly fill him with-including delicious, crispy latkes; scrumptious matzoh-ball soup; irresistible apple torte; and honey cake.
As the year passes, Rabbi Benjamin's beautiful vest stretches tighter and tighter across his belly, and one by one the shiny silver buttons pop!-pop!-pop! off. When summer comes, Rabbi helps his congregation with their gardening, with the hiding of Chanukah presents, with the apple picking, and the fishing. Will all this hard work help Rabbi fit into his beautiful vest when Rosh Hashanah rolls around again?
About the Author
Alice B. McGinty is the award-winning author of over forty books for children. She is a writer, reader, writing coach and instructor, book reviewer, author, and mom. If you peeked in her pockets, you might find scraps of paper and a pen, a pebble or two, and a guitar pick. Alice has led music sessions for religious school and taught pre-kindergarten classes in her synagogue for many years. An enthusiastic dancer, hiker, and runner, Alice lives in Urbana, Illinois.

When Jennifer Black Reinhardt was in elementary school and her classmates said that they wanted to be firemen, doctors, and vets, she declared that she wanted to draw the pictures on greeting cards. When she grew up she did that and more. She has an illustration degree from Carnegie Mellon University and is the illustrator of The Adventures of a South Pole Pig (Houghton Mifflin Harcourt).
Praise For Rabbi Benjamin's Buttons…
*Rabbi Benjamin and his congregation are besotted with one another, but when the community presents its leader with a yellow-gold vest to wear on holidays, decorated with four shiny silver buttons, they neglect to factor in one thing: Jewish holidays mean lots of irresistible, calorie- and emotion-laden Jewish cooking. As the rabbi grows increasingly portly at various dinners, it's clear to both him and his attentive dog that the vest and its silver buttons are not engineered to expand. Oy-yoy-yoy! You don't have to be Jewish to love this marvelously funny, wholly original story about the intersection of faith, food, and families—in fact, it's got a wrap-up that Michelle Obama would applaud: Rabbi Benjamin discovers that a regimen of community-centered exercise (like helping one family plant a Sukkot garden) can work wonders. McGinty's (Gandhi: A March to the Sea) loving, lighthearted prose is as sunshiny as her characters, while Reinhardt's (The Adventures of a South Pole Pig) detailed watercolors depict a diverse congregation brimming with endearing idiosyncrasies and mutual affection—a real mishpochah.
-Publishers Weekly, *starred review

Rabbi Benjamin has a loving relationship with his congregants, who present him with a holiday vest one Rosh Hashanah as a token of their esteem. During Sukkot, Chanukah, and Passover, he overindulges in the treats cooked up by his friends. One by one, his buttons pop off as his stomach expands. Instead of despairing, the man spends the summer helping his friends with tasks that give him a good workout, and by the following Rosh Hashanah, he is pleased to accept a wonderful new vest (with the retrieved buttons) to replace the stretched and battered old one. A number of positive themes run through this story: community, hospitality, health, problem solving. Diversity is celebrated in the cheerful watercolor and ink illustrations, which include mixed-race and single-parent families in the congregation, as well as a dad flouting traditional gender roles as he cooks and takes care of his baby. These holidays provide a framework for the story but are not the focus. The many universal themes are more central to the book than the Jewish content and make it appropriate for general audiences. The four recipes (one for each holiday) will also appeal across cultures. A pleasant story that can be used year-round as a celebration of Jewish heritage, the love of community, and the importance of eating right.
-School Library Journal

As a token of their love for Rabbi Benjamin, his Walnut Street congregants give him a yellow vest embroidered with a menorah, lulav branches, and torah scrolls. Four shiny silver buttons down its front complete the rabbi's new multi-holiday look. Over the course of the year, as Rabbi Benjamin liberally samples Rosh Hashanah, Sukkot, Hanukkah, and Passover foods, his belly expands. Eventually, the vest fabric stretches so much that each silver button pops off. Lacking basic sewing skills, the portly rabbi uses a safety pin, tallit clips, string, and staples in a makeshift attempt to replace the stray buttons. Over the summer, Rabbi Benjamin loses the extra weight by planting a garden, hiding Hanukkah presents, fishing for carp, and harvesting apples. The now baggy vest still doesn't fit, but the story's sweet ending is tailor-made to bring a smile to every food-loving fashionista. Reinhardt's illustrations of the bearded rabbi, who favors not only cheery vests but also high-water black pants, are done in watercolor and ink. The book includes a one-page glossary of Judaic terms and recipes for honey cake, fruit strudel, latkes, and matzo ball soup.
-Association of Jewish Libraries

"A happy congregation is the sunshine of my heart," proclaims Rabbi Benjamin. The love-fest goes both ways, and his congregants at the Walnut Street synagogue present him with a Jewish holiday-themed vest on Rosh Hashanah. After blowing the shofar, it's time to eat: homemade apple torte, honey cake, and more, "until his holiday vest stretched tightly across his belly." A couple of weeks pass; now it's Sukkot, and as Rabbi Benjamin feasts at each family's sukkah, all of that stuffed cabbage, sweet-potato pie, and fruit strudel cause him to quite literally burst one of his buttons--"pop!" With first Hanukkah, then Passover still to come, the rest of those buttons don't stand a chance. "Oy-yoy-yoy...I've ruined my special holiday vest!" laments the rabbi as the last buttons fly off during the Goldwassers' Seder (one button lands in the horseradish, the other in the prophet Elijah's cup). A little physical activity throughout the summer and fall brings back his waistline...but what about his special present? Nisht gedeyget [don't worry]! When Rosh Hashanah rolls around again, the congregants have a little something up their sleeve. There's much joy in this cheery holiday book, from the spry text's kid-pleasing sound effects (pop! splat! plop! splish-splash!), to casually presented but informative details about each holiday, to the matter-of-fact depiction of a range of Jewish families in the detail-filled watercolor and ink illustrations, to that bright-yellow, menorah-festooned vest--which is ugly in the way that all good holiday garments are. Back matter includes information about and recipes for each holiday and a glossary.
-The Horn Book Magazine

A grateful congregation presents their beloved Rabbi Benjamin with a special holiday vest containing four silver buttons. He proudly wears the garment for Rosh Hashanah, Sukkot, Hanukkah, and Passover, although the vest gradually becomes a bit soiled and quite tight as he overindulges in holiday foods, resulting in buttons popping off at inopportune times. Embarrassed, Benjamin spends the summer and early fall hard at work for his families—planting, picking, sweating, and fishing. By New Year's, the vest again fits, but without the buttons it's not quite the same. Luckily the congregation is one step ahead with a brand new vest. Reinhardt's watercolor-and-ink illustrations are well suited to this sunny, slyly humorous text: at each holiday, families ply the rabbi with delectable goodies, and buttons always pop into the festive foods. Concluded with recipes and a glossary, this makes a good introduction to the cycle of Jewish holidays. (The gentle caution about overeating is a bonus.)
-Booklist Online