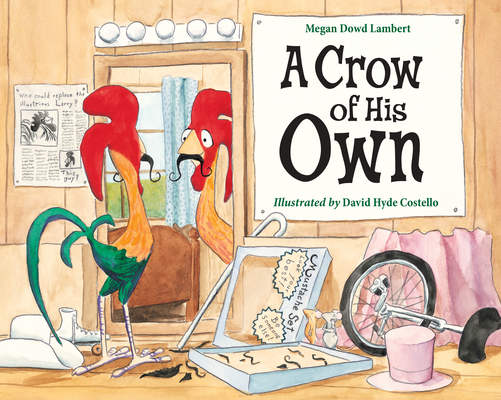 A Crow of His Own (Hardcover)
Charlesbridge, 9781580894470, 32pp.
Publication Date: April 14, 2015
Other Editions of This Title:
Paperback (2/5/2019)
* Individual store prices may vary.
Description
Clyde is the new rooster at Sunrise Farm. But he's having trouble fitting in and replacing Larry—the beloved rooster whose wake-up calls were legendary. The cow, the gaggle of hens, and the sheep reminisce about Larry while poor Clyde fails to croon the farmyard awake with the same finesse. Clyde attempts to win over the farm by wearing an elaborate costume and putting on a show like Larry was known to do, but in the end, Clyde realizes that imitating Larry is not the way to succeed.

Awards

SELECTION 2016 - Cooperative Children's Book Center Choices
SELECTION 2016 - Bank Street College Best Children's Book of the Year
HONOR 2016 - Ezra Jack Keats Book Award
About the Author
Megan Dowd Lambert is an instructor at the Center for the Study of Children's Literature at Simmons College, where she previously earned her master's degree in children's literature. She writes about books and parenting for the Horn Book Magazine, has sat on a Caldecott Committee, and worked at the Eric Carle Museum of Picture Book Art for many years before writing A Crow of His Own, her first picture book.
David Hyde Costello studied acting at the Hartford Academy of Performing Arts and then went on to major in theater and visual arts at Bard College. After graduating, David worked on the sets of plays and movies, including Hello, Dolly! on Broadway and such films as Angels in America, Spider-Man, and The Departed. He is the author and illustrator of I Can Help (Farrar, Straus and Giroux) and Little Pig Joins the Band. www.davidhydecostello.com
Praise For A Crow of His Own…
A scrawny young rooster named Clyde tries to fill the big shoes of his predecessor, Larry, in Lambert's verbally dexterous ode to identity. Larry the rooster brought star power to Sunrise Farm. He knew how, in the farmspun words of motherly goose Roberta, to make "quite a show of it"—"it" being the morning cock-a-doodle-doo. When Clyde pops from his crate to greet his new farm mates, all bumble-footed and insecure in the shadow of the great Larry, the other animals (minus Roberta) find him wanting: in word bubbles of disappointment, "What a worthless chicken." Clyde endeavors to top Larry at Larry's game—two-stepping, riding a unicycle, parachuting into the dawn—and he makes a hash of it, because Clyde isn't Larry. Clyde must find his own voice, and he does so with a little help from Roberta. Where Lambert hoes a row of her own is in the wording of the story. No "said" or "asked" makes an appearance. Rather, readers discover "stammered" and "soothed," "assured" and "chirped," "mused" and "fussed." Costello's pen-and-watercolor illustrations are a happy vehicle for the story, with colors from deep in the big crayon box, expressive penwork and a pleasing hominess to the farm. An invitation to be your own showman, crow your own crow, cock-a-doodle-doo with "a little warble at the beginning, and a crescendo at the 'doodle'...and oh, that raspy growl."
-Kirkus Reviews

When Larry, a prize-winning rooster, takes off for new opportunities, Farmer Jay and Farmer Kevin replace him with Clyde. When the farm animals see the scrawny new bird for the first time, they say things like "Uh-oh" and "Not much pep in his step." A group of chickens ignores him because they are too busy declaring their love for Larry in the dirt with their feet. A motherly goose named Roberta steps in to help Clyde when she sees him worrying about living up to Larry's "cock-a-doodle-doo." After several failures, Clyde learns that he doesn't need to impress the others with showmanship and props. He just needs to be himself and that is enough to make him stand out from the others. The watercolor illustrations are realistic in style, but the doubting animals speak in humorous dialogue balloons, and they occasionally act like people (they watch Larry on TV and read the newspaper). VERDICT A very funny but telling look at self-acceptance and not assuming the worst based on first impressions.
-School Library Journal

Farmers Jay and Kevin replace their old rooster, Larry, with a new one, Clyde, but the barnyard animals clearly find the scrawny little fellow unimpressive. Distressed, Clyde prepares for his crack-of-dawn debut by working all day on his props, costume, and choreography. That first morning, he oversleeps. On the next, he and his unicycle fall off the roof of the coop. After several failures, Clyde listens to Roberta's advice, "Forget about Larry. Just crow your own crow," and greets the dawn with a resounding "COCK-A-DOODLE-DOO!" The text of this picture book reads aloud well, while the speech balloons in the illustrations carry candid and sometimes funny comments by the barnyard animals. Simply drawn and bright with fluid watercolors, the illustrations reflect the amusing tone of the text. Wrapped in humor, the story's message is lightly delivered and easy to accept. Children are likely to feel so happy with Clyde's success that they'll want to crow right along with him. A fine choice for storytime.
-Booklist