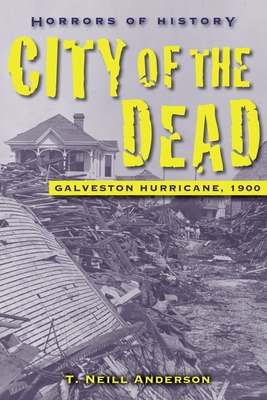 Horrors of History
City of the Dead: Galveston Hurricane, 1900
Hardcover

* Individual store prices may vary.
Description
The year was 1900--a time before cars, evacuation routes, and up-to-the-minute weather reports. It was the day the deadliest storm in US history hammered Galveston, Texas. It was the day an entire island city was nearly wiped from existence.

At the onset of the hurricane, Albert Campbell and the other boys at the orphanage kicked and splashed in the emerging puddles. Daisy Thorne read letters from her fiancé, and Sam Young wondered if his telegram had reached the mainland, warning his family of the weather.

Just a few hours later, torrential rains and crushing tidal waves had flooded the metropolis. Winds upwards of one hundred miles per hour swept entire houses and trees down the streets. Debris slashed through the air; bodies whirled amid the rushing waters. Albert, Daisy, and Sam weren't safe. No one was.

Based on an historic natural disaster, CITY OF THE DEAD weaves together a shocking story where some miraculously survive . . . and many others are tragically lost.

CITY OF THE DEAD is the first book in the Horrors of History series. The series commemorates horrific, life-changing events in our nation's past. Each novel makes history accessible with a combination of thorough research, descriptions of a specific time period, narrative accounts of actual historical persons, and fictionalized characters.
Charlesbridge, 9781580895149, 144pp.
Publication Date: August 1, 2013
About the Author
T. Neill Anderson is a research fanatic and American-history buff. He is the author of the Horrors of History series. He lives and works in Brooklyn, New York.