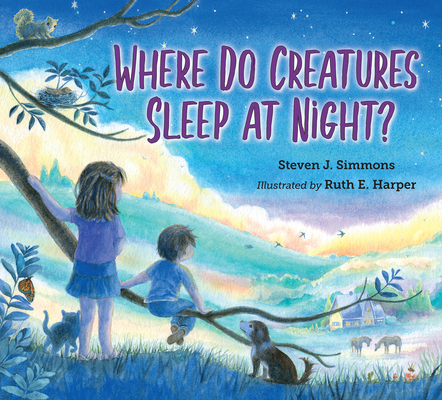 Where Do Creatures Sleep at Night?
Hardcover

* Individual store prices may vary.
Description
Animals sleep, just like you! But where? And how? Let's take a look at what creatures do / when you are asleep and the day is through . . .

We're used to seeing animals during the day, but where and how do they sleep at night? From butterflies to bees and frogs to fish, from birds to horses and squirrels to bunnies, plus cats and dogs, this sweet book in rhyme shows kids where animals bed down while kids are also asleep. Following a brother and sister on a farm where all the animals can be found, this book teaches and delights!
Praise For Where Do Creatures Sleep at Night?…
What do animals do when children are sleeping?
Featuring creatures young children are likely to know, this book has the answers. Each spread's left-hand page describes the animal's daytime activities, while the right focuses on nighttime behaviors. Realistic watercolor illustrations highlight the animals and, for the night scenes, incorporate the midnight blue introduced on the endpapers. Golden moonlight encircles sleeping creatures, including a frog, ducks, and horses. Young readers will easily recognize the brilliant fluttering daytime butterflies and see children feeding a pet goldfish or playing with another pet. The three or four couplets on each spread end in rhyme (with a fun bush/shushhh pair) or near rhyme (down/found, sleep/feet, line/eye, safe/late). Given the couplets and rhyme, readers may expect a rhythmic read, but the lack of consistent meter makes smooth reading a challenge. However, unusual nighttime facts are a plus. "With tiny clawed feet, [a butterfly] hangs upside-down, / making it difficult to be found." Goldfish sleep with their eyes open since they have no eyelids; ducks sometimes sleep in a line, with the first and last guarding the rest; bees' antennae droop. (Unfortunately, both illustration and text incorrectly imply that bees' comb is aligned horizontally instead of vertically.) Although the story ends with a bedtime message, most listeners will probably not be sleepy at the end. Recurring child characters present White, with one scene including racially diverse friends.

This may not encourage sleep, but it probably will prompt more questions about animals after dark.
—Kirkus Reviews
Charlesbridge, 9781580895217, 32pp.
Publication Date: October 26, 2021
About the Author
Steven J. Simmons has been a professor of law and government, a White House aide on domestic policy, and a leader in the cable industry. Steven is the author of the best-selling children's book, Alice and Greta: A Tale of Two Witches.

Ruth Harper is a self-taught artist from England. She loves to echo nature in her work. She lives in Iowa with an adorable husband--they have six grown-up kids between them (plus handfuls of grandbabies!). She is the illustrator of the NYT bestseller The Kissing Hand (with Nancy M. Leak), Sassafras, and Happy Mamas. www.rutheharper.com