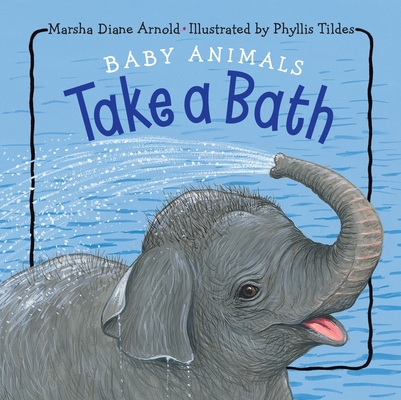 Baby Animals Take a Bath
Board book

* Individual store prices may vary.
Description
It's bath time in the animal kingdom!

Meet eight little critters from around the world as they clean up, each in their own way. From plunging through a snowdrift to steaming in a hot spring, lyrically simple text and charming painted illustrations introduce little listeners to a world of hygiene. And of course, everyone will recognize the surprise ninth entry at the end! A list at the back of the book gives the names of each baby animal in the order they appear. 

This is developmentally appropriate nonfiction for the youngest animal lovers — Kirkus Reviews
Praise For Baby Animals Take a Bath…
Arnold and Tildes showcase eight young animals getting clean in distinctive ways. The text is limited to punchy, two-word phrases ("Snow bath/Sun Bath/Steam bath/Puddle Bath"), and the animals are identified on the back cover. Framed in wavy-edged black border, Tildes's animal portraits reflect the animals' naturalistic behaviors—a zebra foal lolls in the dust, an elephant calf sprays itself with its trunk—while still ensuring they look as adorable as possible. A closing scene featuring a human baby mid-bath cements the connection between the way we get clean and the way animals do.
—Publishers Weekly

Two-word descriptions and realistic art depict the ways a variety of baby animals bathe. "Snow bath" shows a young polar-bear cub enjoying a roll in the snow; across the spread, a sea-lion pup snoozes on a sandy beach in a "sun bath". The book continues with a variety of bathing techniques, including "dust bath" (zebra foal), "mud bath" (hippopotamus calf), and "tongue bath" (tiger cub). Tildes' sunny paintings fill each page, with a squiggly black line as an informal border. The final double-page spread reveals a white infant with brown hair and brown eyes in a baby bathtub receiving a "bubble bath!" The companion book, Baby Animals Take a Nap, follows the same formula to demonstrate how baby critters rest, often with a grown-up in close proximity. The title ends with a white baby peacefully snoozing in the crook of a grown-up's arm, likely the babe's father. Both offerings list the animals depicted in order of appearance in the book on the back cover. While the imagery in both may skew to the adorable, the information it presents is solid. This is developmentally appropriate nonfiction for the youngest animal lovers.
—Kirkus Reviews
Charlesbridge, 9781580895385, 10pp.
Publication Date: February 7, 2017
About the Author
Marsha Diane Arnold has been called a "born storyteller" by the media. She is the author of Lost. Found. (Roaring Brook) and Heart of a Tiger (Dial Books for Young Readers). She lives in Alva, Florida and her stories have been called "wacky," "whimsical," "inspiring," "beguiling," "heartwarming," "uplifting," and "great read-clouds."

Phyllis Tildes is the author and illustrator of Baby Animals Black and White and Animals in Camouflage. After graduation she was a graphic designer for many years before her first book contract from Charlesbridge for Counting on Calico. She has written and illustrated books on subjects such as pets and wildlife, an ethnic tale (The Magic Babushka), and a book on the deaf culture (The Garen Wall), and baby board books. She lives in Savannah, Georgia.
or
Not Currently Available for Direct Purchase