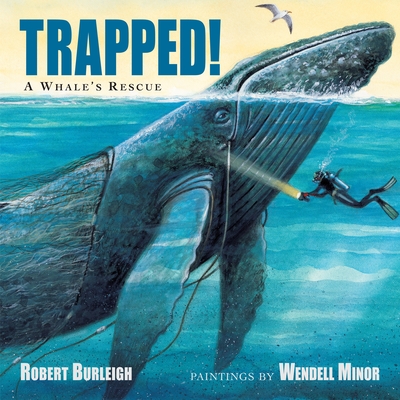 Trapped! A Whale's Rescue (Paperback)
Charlesbridge, 9781580895590, 32pp.
Publication Date: May 8, 2018
Other Editions of This Title:
Hardcover (4/14/2015)
* Individual store prices may vary.
Description
A giant whale trapped in nets and ropes. Can she be helped?

A humpback whale migrating south along the California coast becomes tangled in a fishing trawler's ropes and nets. As she struggles to free herself, the ropes twist more tightly around her body, digging into her skin. The whale fights until she is too tired to continue. What happens next will astound and inspire.

Based on true events, this is a story of interspecies cooperation and the importance of human responsibility to protect the earth and its many inhabitants.

Wendell Minor's breathtaking paintings illustrate the majesty of the gentle humpback whale in her blue-green undersea world and the amazing efforts of humans—creatures a mere fraction of her size—who risked their lives to save her. Back matter includes the story behind the story, further information about humpback whales, and facts about whale rescue efforts
About the Author
Robert Burleigh is the author of many books for children, including Night Flight: Amelia Earhart Crosses the Atlantic illustrated by Wendell Minor (Simon & Schuster/Paula Wiseman Books, 2011); Fly, Cher Ami, Fly!: The Pigeon Who Saved the Lost Battalion (Abrams Books for Young Readers, 2008); and Homerun: The Story of Babe Ruth (Sandpiper, 2003).

Wendell Minor is the illustrator of dozens of children's books, including The Last Train by Gordon M. Titcomb (Roaring Brook Press, 2010); Look to the Stars by Buzz Aldrin (Putnam Juvenile, 2009); and America the Beautiful by Katharine Bates (Putnam Juvenile, 2003).
Praise For Trapped! A Whale's Rescue…
*In 2005, an adult female humpback whale became caught in nets left by crab fishermen. This beautiful picture book vividly describes how divers cut through the ropes that held her in place, saving her life. The prose is spare yet captivating, without a single wasted word ("The struggle begins. The web of ropes cuts into her skin. She flails, starts to sink, fights for air."). The gouache illustrations are exceptional and expertly complement the text. The final spread is particularly glorious, depicting the whale splashing away, her tail gleaming under the light of a starry sky and a full moon. An appended section includes more details about the actual event that inspired the book, information about whale rescue in general, and facts about humpbacks. Educators will also appreciate a page of extensive resources. This is an enchanting portrayal that demonstrates the positive impact that humans can have upon the natural world, and few readers will come away unaffected. VERDICT The inviting language, gorgeous images, and uplifting tone make this an excellent addition to any collection.
-School Library Journal, *starred review

Frequent collaborators Burleigh and Minor present a tense story of an attempt to free a humpback whale entangled in crab traps, based on a real-life event off the California coast in 2006. Burleigh writes in three-line passages that evoke the feeling of haiku ("The struggle begins./ The web of ropes cuts into her skin./ She flails, starts to sink,/ fights for air"), while Minor's gouache paintings highlight the whale's immensity, strength, and vulnerability as small human divers attempt to cut her free of the ropes binding her. Endnotes detailing the event that inspired the book, as well as information about humpbacks and the dangerousness of whale rescues, round out a quietly dramatic survival story.
-Publishers Weekly


*Based on an event that took place near San Francisco in 2005, this picture book depicts a humpback whale swimming, diving, and feeding freely until she becomes entangled in abandoned, drifting nets. Her struggles draw the ropes tighter until, trapped, she stops and lies still. Boats bring rescuers to the scene. Five divers cut the lines, one by one, until the whale can swim again. "She moves among the cheering rescuers, softly nudging each one, as if saying thanks." The whale breaches and swims away. In Minor's beautifully composed gouache paintings, the whale is a silent but enormously empathetic character. Several appended pages offer more information about the actual event, whale rescues in general, and humpback whales in particular. Adults reading the book aloud may want to introduce words such as spyhop, lobtail, fluke, and krill before beginning, to avoid breaking the cadence of the writing once the story is underway. Like the stately illustrations, the precise prose has a dignity that is worthy of its subject and unusual in a picture book for preschool and primary-grade children. Although the episode of the whale's entrapment and release is short, it will linger in young listeners' minds long after the book is closed.
-Booklist, *starred review