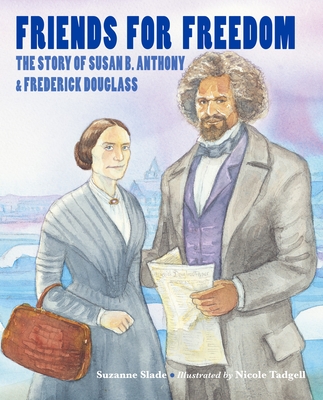 Friends for Freedom (Hardcover)
The Story of Susan B. Anthony & Frederick Douglass
Charlesbridge, 9781580895682, 40pp.
Publication Date: September 9, 2014
* Individual store prices may vary.
Description
No one thought Susan B. Anthony and Frederick Douglass would ever become friends. The former slave and the outspoken woman came from two different worlds. But they shared deep-seated beliefs in equality and the need to fight for it. Despite naysayers, hecklers, and even arsonists, Susan and Frederick became fast friends and worked together to change America.
About the Author
Suzanne Slade is a former engineer and the author of more than ninety books for children, including Climbing Lincoln's Steps, The House That George Built, Susan B. Anthony: Fighter for Freedom and Equality, and Frederick Douglass: Writer, Speaker, and Opponent of Slavery. She lives near Chicago.
Praise For Friends for Freedom: The Story of Susan B. Anthony & Frederick Douglass…
Offering a new perspective, this informational picture book details the deep friendship between Susan B. Anthony and Frederick Douglass. Even though their friendship was taboo for the time period, they were able to withstand prejudice and even violence, including the brawls and fights that broke out when the two spoke against slavery together, and being pelted with rotten eggs. The illustrations are simple and realistic, focusing on the strength of their rapport. The author eloquently weaves together information about the fight against slavery and the battle for women's rights, setting this title apart from others. An extensive author's note provides more information on research and on the bronze sculpture of Anthony and Douglass in Rochester, New York. A solid addition that will spark conversations about gender and racial equality.
-School Library Journal

Two important historical figures from separate worlds come together for the common purpose of freedom. From the first line of this work of creative nonfiction, the author makes clear the contrasts between Frederick Douglass and Susan B. Anthony: The cabin in which the slave, Frederick, was born had clay floors; the two-story house in which Susan was born had floors of polished wood. Despite differences in race, class and upbringing, Douglass and Anthony determined to be friends despite the taboos against cross-racial friendships. Both Slade's text and Tadgell's watercolor illustrations emphasize the passion each had for social justice as well as the lengths to which they both went to maintain their friendship. Often, characters in the background peer at them, looking disgusted or scandalized. In one illustration, enemies throw rotten eggs at them; Douglass' angry expression and Anthony's upraised fist speak to their determination to make their friendship an example of how America should be. The backmatter, which includes a photograph of bronze sculptures in Rochester, New York, of Douglass and Anthony having tea together, also offers useful information from the author in which she delineates the facts versus the fiction in the story. This biographical gem places the spotlight on a friendship far ahead of its time.
-Kirkus Reviews

*At a time when "it wasn't proper for women to be friends with men" and "You weren't supposed to be friends with someone whose skin was a different color," Anthony and Douglass sought out each other based on mutual respect and a shared commitment toward equality. Tadgell's carefully drafted and evocative watercolors capture both the past and present obstacles Anthony and Douglass faced, from Douglass's youth as a slave to rotten eggs hurled at the two when they appeared in public together and combative differences of opinion, as when the Fifteenth Amendment proposed to give voting rights to black men but not to women. Author and artist notes and a time line conclude a powerful testament to a friendship that spanned decades as it challenged conventions and "helped America grow up, too."
-Publishers Weekly, *starred review

Can a friendship change a nation? In a most inappropriate friendship for their time, Susan B. Anthony and Frederick Douglass worked together to gain equality for African Americans and women. The overall focus of the book is their amazing relationship, which lasted more than 45 years. The book begins with a brief introduction of both characters, noting the sharp contrast of their childhoods: Anthony's was one of privilege, while Douglass' was one of "chopping, plowing and planting." Despite a major disagreement over the Fifteenth Amendment, the short pages of text show how they helped the nation make profound progress in the area of "liberty and justice for all." The watercolor illustrations provide historical context. Back matter includes richly detailed notes from the author and illustrator, a bibliography, source notes, and a time line.
-Booklist