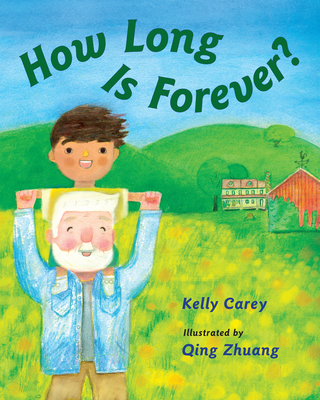 How Long Is Forever?
Hardcover

* Individual store prices may vary.
Description
Fans of Guess How Much I Love You will love figuring out how long forever is alongside Mason and Grandpa.

Mason is waiting for Nana's blueberry pie and complains that it's taking forever. So Grandpa challenges him to figure out how long forever really is. Is it as long as Grandpa has had his tractor? No. As long as it took Nana to grow the roses to the top of the chimney? Not even close. After a trip around the farm to figure out the answer, Nana's pie is ready. And Mason's finally got the answer: forever is how long he'll love Nana's pie and how long he'll love Nana and Grandpa, too.
Praise For How Long Is Forever?…
Forever is a long time to wait. Mason grumbles that waiting for Nana's blueberry pie "is taking forever." Amused—and eager to distract his grandson—Grandpa asks Mason if he knows how long forever is. Has Grandpa owned his tractor forever? Did it take forever for Nana's roses to grow up to the chimney? Is it as long as water "has been racing down the stream"? Forever must be as long as "the great elm tree has been here." Nope, says Grandpa, but waiting's over; pie's ready! After devouring a slice, Mason declares it was worth the wait. Now, his understanding is clearer. Forever, he asserts, is how long he'll love Nana's pie. Even better—it's how long he'll love Grandpa and Nana. This simple story sweetly portrays a realistic, loving relationship. Listeners on laps or in group settings will eagerly volunteer examples of how long forever is and when they had to wait for desired things. Commendably, the tale helps youngsters approach an abstract math concept—time—concretely and creatively. The watercolor-and-colored pencil illustrations are warm and expressive, depicting lush backgrounds. Mason has light-brown skin; his grandparents' skin is pale. Grandpa has stark white hair and white facial hair; Nana looks less stereotypical, with a blonde bob and red specs. The author provides a link to some luscious recipes. It won't take forever for kids to return to this one.
—Kirkus Reviews
Charlesbridge, 9781580895781, 32pp.
Publication Date: April 7, 2020
About the Author
Kelly Carey holds a BS in English and communication from Fairfield University. She is a busy mom who has worked in insurance, as a freelance copyeditor, and as an elementary school substitute teacher. She lives in Massachusetts. How Long Is Forever? is her first picture book.

Qing Zhuang (pronounced Ching Juong) is an illustrator and elementary educator based in New York City. She holds a BFA in Illustration from Maryland Institute College of Art, Baltimore, and a MA in teaching from School of Visual Arts, New York. How Long Is Forever? is her first picture book. www.qingthings.com
or
Not Currently Available for Direct Purchase