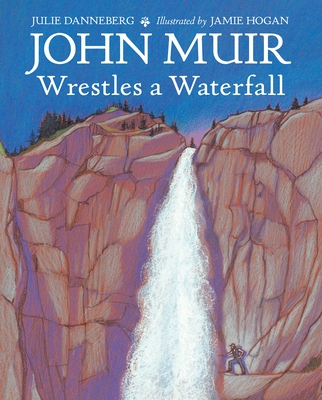 John Muir Wrestles a Waterfall (Hardcover)
Charlesbridge, 9781580895866, 32pp.
Publication Date: March 10, 2015
* Individual store prices may vary.
Description
The now iconic figure John Muir, while living at the base of Yosemite Falls in California, ventures up the trail from his cabin one night and has a harrowing waterfall adventure. Back matter roots the story in Muir's life's work as a conservationist and naturalist.
About the Author
After graduating from the University of Colorado, Boulder, Julie Danneberg became a teacher. In her classroom, she read many children's books and witnessed the profound impact a good book can have on a child. "I was motivated to try and write books like the ones I enjoy reading." Julie earned great success with First Day Jitter—the funny and engaging story of Sarah Jane Hartwell's first day at a new school. The surprise ending charms and delights readers time and again. Teachers and students love the Sarah Jane Hartwell books, which are perennial school time favorites. Julie lives with her husband and two children in Denver. She teaches at a local middle school where she garners ideas for her books. When she's not writing, Julie enjoys reading, quilting, gardening, and spending time with her family.
Praise For John Muir Wrestles a Waterfall…
A noted naturalist nearly loses his life exploring a waterfall.
In April 1871, when explorer and early environmentalist John Muir was living in Yosemite Valley, he decided to climb up to and under its falls with near-disastrous results. Danneberg has taken an incident Muir described twice in articles about Yosemite for the Century Illustrated Monthly Magazine, in 1890 and 1912, and turned it into a surprisingly suspenseful survival story for a 21st-century audience. There are two parallel texts at the beginning—one that works for reading aloud and another, in a slightly smaller font, that provides more explanation and background. But at the climax, it becomes one story, and a very scary one at that, as the falling water shifts and pins Muir against the granite wall. The rough strokes of the pastel-and-colored-pencil illustrations emphasize the texture of the rock, water and wood of the natural world Muir loved. Though sometimes dark (this was an evening adventure), these images show nicely at a distance. Pictured at the beginning and the end are quotations from Muir's writings, penned in script that will probably stump young readers, emphasizing his steady habit of journal-keeping. A final author's note explains more about Muir's life and work, as well as about Yosemite.
A welcome addition to the modern collection of John Muir's adventures.
-Kirkus Reviews

Tall-tale title notwithstanding, this double-stranded narrative serves as both a general introduction to the renowned environmentalist and a dramatic true account of one of his narrower squeaks. Opposite blocks of biographical information printed in a slightly smaller typeface, Danneberg describes, in lyrical present-tense language, Muir's fascination with Yosemite--and particularly its falls: "CASCADING, CRASHING, CAREENING wildly over the side of the mountain." That fascination leads the naturalist, one evening, to climb high beside the windblown cataract and even slip behind it. Then the wind dies, leaving him directly exposed to the heavy, perilous flow. Using pastels on rough paper to give her illustrations a properly rugged look, Hogan captures a sense of Yosemite's idyllic beauty as well as the bushy-bearded Muir's dreamy, distant gaze. Brief handwritten quotes from his letters provide glimpses of his evocative style, and a closing note that fills in the conjoined history of Muir and Yosemite may tempt readers to seek out more on his life and writings.
-Booklist

Danneberg recounts an event in the life of naturalist and Sierra Club founder John Muir at Yosemite Falls in 1871. While attempting to get as close as possible to the falls one night, Muir narrowly escapes being engulfed by the surging, freezing water: "He slowly and carefully makes his way out from behind the beautiful, dangerous, magical, scary waterfall." Paragraphs set apart from the main text supply broader insight into Muir's life and work, yet Hogan's pastels, while fittingly dramatic, can also be somewhat wooden. An afterword shares a more detailed version of Muir's waterfall experience, which he eloquently described as "my wild bath in moonlit spray."
-Publishers Weekly

This attractive picture book retells naturalist and writer John Muir's climb up a steep trail behind a waterfall along Yosemite Falls in April 1871. Danneberg includes information about Muir's love of the outdoors, his house in Yosemite (where he slept in a hammock that hung over an indoor spring), and his exploration of the park's natural setting. Lucid descriptions and the use of the present tense make the story immediate and relevant. Hogan's expressive renderings of the explorer's face are the highlight of this book, depicting the excitement and awe that Muir experienced standing beneath the falls. Many pages include supplemental information about the man and his love of nature. Quotations used in the text are cited, along with suggested readings and pertinent websites. VERDICT This is a solid work, ideal for those looking to add to collections or units on environmental studies, geography, writing, or biography and sure to inspire further interest in Muir.
-School Library Journal