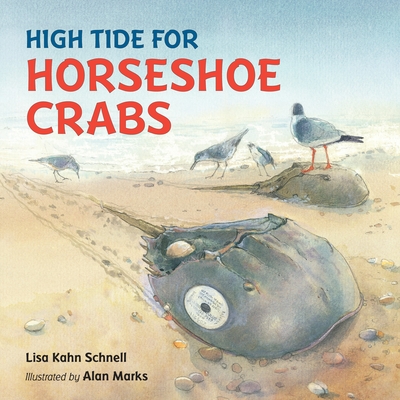 High Tide for Horseshoe Crabs (Hardcover)
Charlesbridge, 9781580896047, 40pp.
Publication Date: April 14, 2015
* Individual store prices may vary.
Description
Horseshoe crabs, shorebirds, and humans converge in a frenzy of activity.

Every spring millions of horseshoe crabs crawl to the beaches of Delaware Bay to lay their eggs. But they aren't the only ones crowding ashore. Flocks of shorebirds migrating north from South America stop to feed on the horseshoe crab eggs. People also flock to the scene. Scientists and tourists turn out to see the spectacle and learn more about the creatures that call this habitat home for a few weeks. 

Alan Marks' gorgeous paintings bring the reader down to the shoreline to observe this exciting annual event that interconnects species in a web of life and an ancient food chain.
About the Author
Lisa Kahn Schnell is a writer, book reviewer, and scientist with a masters degree in plant ecology who has published several nonfiction essays for adults. This is her first book.
Praise For High Tide for Horseshoe Crabs…
*In a natural-world extravaganza, horseshoe crabs, birds and people meet up each spring on the shores of the Delaware Bay. This remarkable event is chronicled for younger readers and listeners with a simple two-level text and watercolor-and-pencil illustrations that correctly portray the various visitors: the crabs who've come ashore to lay their eggs; the red knots, sanderlings and ruddy turnstones stopping on their long migration north for the feast; and the scientists and vacationers who've come to marvel and record the annual event. Marks' soft paintings bring young readers into the story by including a recognizable, possibly Asian-American, young girl as a focal character, one of the onlookers. Short simple paragraphs, each with a two-word headline, are set on top of the double-page spreads. The headlines summarize, spread by spread: "It's starting. / They're arriving. / They're flapping. / They're traveling. / They're laying. / They're landing. / IT'S HAPPENING!" And so forth. The narrative thus conveyed is simple and reliant on illustrations to understand antecedents, but it's also accurate and informative. It's followed by a more detailed explanation for older readers of the crab's life cycle and behavior, its part in the food web, its importance to humans, especially in medicines and medical devices, and an extensive list of suggestions for further exploration. The endpapers show horseshoe-crab anatomy with labels that name and explain major parts. A splendid introduction to an extraordinary spectacle.
-Kirkus Reviews, starred review


*This charming picture book describes the annual spawning of horseshoe crabs at Delaware Bay. Softly hued, delicately detailed watercolor spreads depict the events: the crabs gathering on the beach to mate and lay their eggs in the sand, migratory birds arriving to feast on the eggs that haven't been buried deeply enough, scientists and volunteers coming to watch, and the baby crabs eventually hatching and making their way to the sea. Brief, bold action statements introduce the different sections, and the language provides analogies children can grasp ("Some of these birds weigh only as much as a handful of paper clips. Still, they are powerful enough to fly thousands of miles."). Readers will learn about the spawning process, as well as how scientists and volunteers tag these animals for identification purposes. Thorough back matter provides more information, including how products made from the crabs can benefit people. End pages present detailed anatomical diagrams of the top and underside of a horseshoe crab. Schnell also lets readers know how they can witness the spawning for themselves. VERDICT A wonderful introduction to these creatures and the importance of monitoring them. A particularly strong addition for Eastern seaboard locations, as well as for collections across the country.
-School Library Journal, starred review


This nonfiction picture book balances information with literary language to provide an engaging choice for very young seashore scientists. Each watercolor-filled, double-page spread illustrates a moment in the life cycle of this arthropod: their nighttime arrival above the tide line to lay their eggs; the shore birds that prey on those eggs; beach walkers and environmentalists who tag individual horseshoe crabs to track migratory patterns and behavior; and the eventual departure of the hatchlings back into the ocean until the next season. Schnell weaves together the crabs' behavior and that of other creatures on the beach, including humans, which gives a well-rounded and interesting view of the beach ecosystem. Marks' watercolor-and-pencil illustrations depict a wide range of perspectives, both above and below the water, as well as a diverse cast of people and realistic renderings of horseshoe crabs. The fairly extensive back matter offers further information, including websites about different types of shore life, a map of the richest horseshoe crab mating areas in America, and activities and resources for expanded learning.
-Booklist


High Tide for Horseshoe Crabs had my attention as soon as I picked it up. There on the cover was a male horseshoe crab with an identification tag attached to its shell, crawling up onto the beach. I imagined a young child thinking "what is that strange looking animal?" 

Not many people (children or adults) know a lot about the horseshoe crab, yet it is an important animal for almost all humans (anyone who has received a vaccine, for example), for water men who use the organism as bait, and for several species of shorebird that depend on the horseshoe crab eggs as a food source as they journey from South America each spring to their summer nesting grounds in the Arctic. This book will draw the young reader into the story of the connection between horseshoe crabs and shorebirds.It is a classic story of ecology and co–evolution explained in words that our youngest scientists can understand and appreciate.

Pages of wonderfully illustrated scenes depicting the horseshoe crab spawning that takes place along the Delaware seashore each spring and the arrival of the shorebirds who feed on the eggs to give them the fuel they need to complete their journey to the Arctic bring the story to life for the reader. Along the way, children learn about how humans (scientists, citizen scientists, and even beach vacationers) participate in this spectacle that takes place each May and June. It is a dual–text story of nature and science told in a charming way, sure to delight the young reader. For educators wishing for more background information on these fascinating animals or for more resources to use with young students, the book includes several suggestions and supplemental background information for adults.
-NSTA Recommends


Every year, the east coast of the United States experiences an extraordinary natural phenomenon: the migration of the horseshoe crab, a living relative of fossil trilobites, which make their way onto beaches to lay their eggs each spring. Coincident with the arrival of the crabs is the migration of wading shorebirds from South America, which are on their way to their Arctic nesting grounds. The crabs' eggs provide welcome food for the small birds. This book beautifully stitches together the interconnections in this story and shows how teams of professional and citizen scientists study the two populations. The illustrations by Allan Marks are exquisite. As well as lovely drawings of birds and beachscapes, Marks shows the scientists studying the horseshoe crabs and birds and depicts animals bearing tags and leg rings. The book's final pages name and show the anatomy of the crabs. Although the language is simple, it summarizes the essence of the biology and should be suitable for 7-to 9-year-olds. The last four pages expand on the science for adult readers and provide a selection of teaching resources.
-Science Magazine