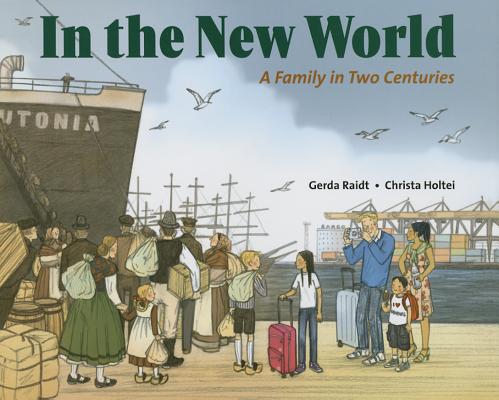 In the New World (Hardcover)
A Family in Two Centuries
Charlesbridge, 9781580896306, 40pp.
Publication Date: March 10, 2015
* Individual store prices may vary.
Description
Three centuries, two countries, one immigrant family. 

The year is 1850. Robert and Margarete and their two children pack up their lives and leave Germany forever. Their destination: America. After landing in New Orleans and joining a wagon train headed west to Nebraska, the immigrant family establishes a farm outside Omaha, working hard to build a new life despite the challenges they face. 

Three centuries later, Robert and Margarete's descendants still live on that farm in Nebraska. They decide to investigate their roots and visit Germany, reversing the trip their ancestors made and coming back to touch a piece of their history.
About the Author
Christa Holtei had a long academic career at Heinrich Heine University in Düsseldorf. Since 1994 she has worked as a translator and freelance author. She has a talent for explaining complex ideas to children in relatively few words. Gerda Raidt studied graphic arts at Burg Giebichenstein University of Art and Design Halle and illustration at the Hochschule für Grafik und Buchkunst in Leipzig. Since 2004 she has worked as a freelance illustrator and has worked on numerous books.
Praise For In the New World: A Family in Two Centuries…
This import offers a straightforward account of the reasons why a German family immigrates to America and how they fare initially, along with a brief look at the lives of their descendants.
Raidt's conversational text begins with a brisk summary of the economic situation in Germany in the 1850s. This explains why the Peterses choose to leave behind family, farm and friends in 1869 in search of a new life in the United States. Blocks of text are accompanied by Holtei's delicately lined and colored illustrations; they are not etchings, but they recall Arthur Geisert in perspective and detail. These vignettes and double-page spreads add detail and assist in imparting information while also bringing characters and setting to life. Together, words and pictures outline the family's journey in the steerage section, their trip overland to Nebraska and their subsequent prosperity. Skipping several generations, their contemporary descendants are introduced in the final fourth of the book. Motivated by a school project, they reverse the trip and return to Germany to seek out the house from which their ancestors emigrated. Children are part of both families, and the present-day Peterses are a multiethnic family, both elements adding interest and appeal.
While social studies teachers and/or those of German heritage seem likely to be the most enthusiastic audience, the narrative style, informal tone and attractive artwork broaden it significantly.
-Kirkus Reviews


This portrait of two generations of a family, separated by 150 years, provides a forthright account of the 19th-century German immigrant experience. Subheads break the text into brief blocks as Raidt (Nanuk Flies Home) details the particulars of the Peters family's 1869 move from their small German farm to the United States, explaining the financial necessity for their relocation, the hardships of the move, and the strains and rewards of their two-month journey to Nebraska. Holtei's (The Six Swans) crisp picture, a mix of spot illustrations and dramatic wordless spreads, showcase a diversity of landscapes, from a bustling Hamburg port to the equally busy streets of post-Civil War New Orleans and the sweeping plains where the family builds its farm, thanks to the Homestead Act. A page turn brings readers to the present day, as the Peters's descendants travel to Germany to explore their roots. While this reverse journey doesn't get the same weight and attention as the first one, it draws a clear line between past and present that will likely leave children curious about their own family histories.
-Publishers Weekly


This fascinating picture book blend of fiction and nonfiction uses the story of the Peterses, a made-up German immigrant family and their fifth-generation American descendants, to explore immigration in the 19th century. Through well-crafted text and charming, detailed drawings, Holtei and Raidt convey the severe economic conditions that precipitated the Peterses' journey in 1869. Charming panoramas of the Peterses' home and village and close-ups of their careful planning prepare readers for the trip's progression, including what items the family carried with them in the one trunk allowed aboard the Teutonia. Onward from their passage in steerage, the Peterses disembarked in New Orleans and transferred to the steamship Princess on their way to Nebraska. There they made their final connection to their new home via covered wagon. Well-written paragraphs expand on topics such as "Life in Steerage" and "Seeing the New World." The narrative then highlights the fifth-generation of Peterses, who traveled back to their ancestral home in Germany to uncover their history. This tale emphasizes the triumph born of hard work and industry, themes that reflect the experiences of many immigrants to America, and humanizes this period. VERDICT A thoroughly delightful and informative story that may even inspire some readers to discover the joys of genealogy for themselves.
-School Library Journal


*In 1869, Robert and Margarete Peters emigrate from Germany to America with their two children. Taking few possessions, they travel by train, steamship, riverboat, and wagon to reach their homestead on the Nebraska prairie. They build a sod house first, but later they replace it with a sturdy farmhouse that remains in the family for generations. Almost 150 years later, a school project leads their descendants to look into their history. Intrigued by their ancestors who started the farm, the two children and their parents travel to their ancestral home. First published in Germany, this picture book offers a highly accessible, long-range perspective on the immigrant experience. The translated text reads smoothly and includes enough specific information about the nineteenth-century Peters' lives to make their story gripping, while the shorter section on the modern Peters may lead readers to wonder about branches on their own family trees. At least half of each broad, double-page spread is given over to Raidt's lively illustrations—detailed pencil drawings with subdued color washes. Page layouts are nicely varied, with short sections of text nestled alongside small pictures. On the endpapers, decorative maps show each family's journey. Attractive and informative, this is a fine addition to the immigration shelves.
-Booklist, starred review


In this well-written informational book, readers go to the 19th century where Peter's family decides to leave Germany for the United States. After a long and arduous journey, the family settles and turns their land into a prosperous farm that thrives and supports the family for many generations. The author provides a great deal of factual information to underscore both the difficulties and rewards of their necessary journey. The present-day family, now 150 years later, wants to discover more information about their family heritage and background. They travel to Germany to locate the family's original village and piece together parts of the puzzle to appreciate their history. Through well-crafted language, organization, and beautiful detailed illustrations, this book will enhance social studies explorations about immigration and family history.
- Literacy Daily of the International Literacy Association