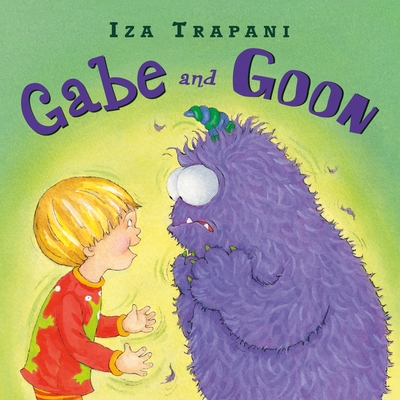 Gabe and Goon (Hardcover)
Charlesbridge, 9781580896405, 32pp.
Publication Date: July 5, 2016
* Individual store prices may vary.
Description
Monsters are real! But, so are little boys.
 
Gabe longs to encounter a real, live monster. And tonight's his lucky night because hiding in Gabe's closet is real-live monster and easily spooked, Goon, wishes to keep away from the outside world— especially those scary little beings called children. When the two meet, Goon can't scare Gabe no matter how hard he tries. But an unsuccessful monster makes for a great friend when the boy is actually scared.
 
Best-selling author/illustrator Iza Trapani uses humorous rhyme to share a spirited story of unexpected friendship.
About the Author
Iza Trapani was born in Poland and when she first came to the United States at the age of seven, she learned English in large part by reading a book of Mother Goose nursery rhymes. She is the author of many books for children, including the best-selling The Itsy Bitsy Spider, which recently celebrated its twentieth anniversary. Iza lives in Upstate New York.
Praise For Gabe and Goon…
Could the sleeping child and the monster in the closet possibly become best friends?
Unlike most children, young Gabe is not scared of monsters, a nice coincidence, since a big purple monster named Goon lives in the little white boy's bedroom closet. Goon, however, is scared of children. He finds them "odd and kooky," even "absolutely spooky." Gabe happens to have a cold, and when Goon hears him sneezing and blowing his nose, the sneeze booms like thunder, and the honk sounds like a terrifying tuba. Goon's knees knock, and he makes the hangers in the closet clatter. So Gabe discovers Goon, who promptly bolts from the closet and hides under the bed. Goon tries to scare Gabe, but the more gruesome the face he makes, the harder Gabe laughs. Goon tries stomping and doing his zombie walk, but neither move shakes the giggles out of Gabe. The tables are turned when a spider walks by, and Gabe hides in the closet. In the same instant, the pair realizes that they're not so different and become the best of friends. Since it's bedtime, the new besties share a nice scary story about monsters before lights out. The Muppet-like Goon is both goofy and adorable, and Trapani's rhyming text bounces blithely along.
A familiar message, but also a crucial and timely one, charmingly presented.
--Kirkus Reviews