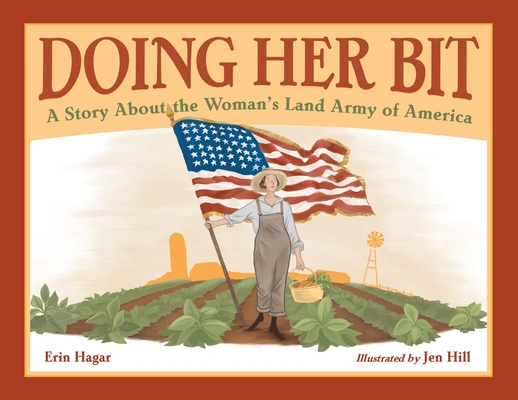 Doing Her Bit (Hardcover)
A Story About the Woman's Land Army of America
Charlesbridge, 9781580896467, 32pp.
Publication Date: September 13, 2016
* Individual store prices may vary.
Description
Based on true events, this fictional story traces the history of the Women's Land Army during World War I. Real-life "Farmerette" Helen Stevens trains to farm the land, negotiates a position for herself and other women, and does her bit for the war effort. This unique book celebrates the true grit of American men and women.
About the Author
Erin Hagar is the author of middle-grade biography, JULIA CHILD: AN EXTRAORDINARY LIFE IN WORDS AND PICTURES (Duo Press). She lives in Baltimore, Maryland.
Praise For Doing Her Bit: A Story About the Woman's Land Army of America…
Based on real events and people, Hagar's story follows college student Helen Stevens during the summer of 1917 as the white "New York City college girl" learns farming to support the war effort. As allies in war-torn Europe struggled with food scarcity despite U.S. supplies, American men trained as soldiers or moved from farms to factories. The Woman's Land Army of America recruited and trained women to work on farms. Helen, who yearns to do more than roll bandages and knit socks for soldiers, enrolls in the Women's Agricultural Camp in Bedford, New York, despite her parents' disapproval. She and other "farmerettes" learn to whitewash a dairy, fence a coop, milk cows, and drive a tractor. Ida Ogilvie, the camp's director, convinces dubious farmer Davie to give Helen, Alice, and Harriet a day's unpaid trial. At day's end, he directs them to return to test their work with livestock. Helen digs in, saying, "If you want us back tomorrow, it'll be two dollars a day for each of us." Hill's Photoshopped gouache paintings, in a palette of green, gray-brown, gold, and pink, use flat color and simple contours to depict fields, workers, and pastel summer skies. Characters are white, perhaps reflecting the camp's composition. Crisp dialogue and small dramas propel this story of a young woman's summer of service in wartime and women's emerging power on the homefront. (author's note, web search ideas, bibliography, period posters and photographs).
- Kirkus Reviews

During World War I, the Women's Land Army (WLA) was formed to assist with farming duties while male farmhands were off fighting in the war. These women became known as "farmerettes." This title follows Helen Stevens and her decision to join the WLA. The narrative jumps right into the action with Helen seeing a WLA poster on the street and deciding to join. This could be a potentially confusing moment for readers unfamiliar with World War I and the status of American women in the early 20th century, While a cutaway to a dinner scene in which Helen's family tries to dissuade her from joining does hint at the inequality women faced ("No farmer in his right mind would hire you girls"), why her father would say this is not discussed. The WLA and Helen's experience farming are the central focus of the work and, in comparison, are better developed. The hard physical labor the women endured in addition to the discrimination they faced is highlighted. The illustrations, done in gouache and Adobe Photoshop, are colorful and detailed; the folk art feel and light brushstrokes lend well to the time period and plot. The author does note that she embellished much of the details and dialogue within the book. An additional selection for elementary school history buffs looking for lesser-known World War I-era stories.
- School Library Journal

In 1917, proper New York City college girl Helen Stevens joins the Woman's Land Army of America to "do her bit" for the war effort. Her white-linens-and-fine-china farewell luncheon sets the story's tone, as Helen waves off her mother's fretting "as if she were swatting a pesky fly. 'I'll be fine,' she said." At the Women's Agricultural Camp in Bedford, New York, Helen and other "farmettes" trade their dresses for overalls and get to work under the guidance of tough director Ida Ogilvie. While, indeed, "blisters turned into calluses," finding men who would hire them to do farm work was more challenging. But, thanks to Ida, Helen and her fellow farmettes do get hired—and for men's wages (well, after they prove their worth and stand up for themselves). This WWI home front story "based on real events and real people" uses invented dialogue and details in a homespun narrative that gets to the heart of an important moment in feminist history. Hill's gouache illustrations in a tawny palette are full of Rosie the Riveter-esque images of women hard at work—just doing their bit—in pastoral landscapes. An informative author's note, a bibliography, and internet-search recommendations are appended; the endpapers display WWI Woman's Land Army posters and sepia photos of the real farmettes. A century later, when equal pay for equal work is still not guaranteed, this book my empower readers to start discussions about feminism and women's roles throughout history.
—The Horn Book Magazine
or
Not Currently Available for Direct Purchase