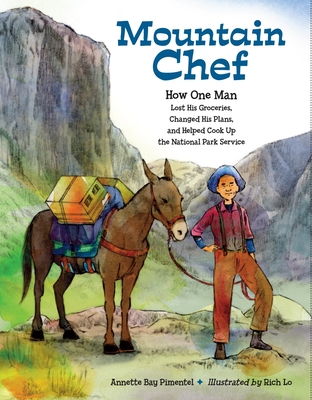 Mountain Chef
How One Man Lost His Groceries, Changed His Plans, and Helped Cook Up the National Park Service
Hardcover

* Individual store prices may vary.
Other Editions of This Title:
Paperback (3/5/2019)
Description
The true story of a Chinese American mountain man who fed thirty people for ten days in the wilderness--and helped inspire the creation of the National Park Service.
 
Tie Sing was born in the mountains. The mountains were in his blood. But because he was of Chinese descent at a time in America when to be Chinese meant working in restaurants or laundries, Tie Sing's prospects were limited. But he had bigger plans. He began cooking for mapmakers and soon built a reputation as the best trail cook in California.
 
When millionaire Stephen Mather began his quest to create a national park service in 1915, he invited a group of influential men—writers, tycoons, members of Congress, and even a movie star—to go camping in the Sierras. Tie Sing was hired to cook.
 
Tie Sing planned diligently. He understood the importance of this trip. But when disaster struck—twice!—and Tie Sing's supplies were lost, it was his creative spirit and quick mind that saved the day. His sumptuous menus had to be struck and Tie Sing had to start over in order to feed the thirty people in the group for ten whole days. His skills were tested and Tie Sing rose to the challenge.
 
On the last night, he fed not just the campers' bodies, but also their minds, reminding them to remember and protect the mountains.
 
2016 marks the 100th anniversary of the National Park Service, created by Congress on August 25, 1916.
 
Today, you can hike to Sing Peak, named for Tie Sing, in Yosemite National Park.
Praise For Mountain Chef: How One Man Lost His Groceries, Changed His Plans, and Helped Cook Up the National Park Service…
Themes of racial discrimination, saving nature, and food and cooking are braided seamlessly in this picture-book biography. At the turn of the 20th century, Chinese men—whether immigrants or American-born—had little choice when it came to work. Most ended up as cooks in restaurants or laundrymen. But Tie Sing "had dreams as big as the country he loved" and made correspondingly expensive plans. Fueled by a love for the outdoors and a passion for cooking, he soon earned a reputation as the best trail cook in California. In 1915, Tie Sing was hired by millionaire Stephen Mather, who had invited a special group of men to go camping in the hopes of convincing Congress to protect the country's natural wonders. For the first few days, Tie Sing kept everyone well-fed with sardine hors d'oeuvres, sizzling steaks, and fresh-baked sourdough rolls. Unfortunately, disaster struck, not once but twice, and Tie Sing lost much of his provisions but tweaked the menu to carry on. Tie Sing's talent and resourcefulness played a huge part in the success of Mather's mission, and within a year, Congress created the National Park Service. Pimentel's lyrically told account is to the point, explaining that "America was a tough place to be Chinese" before zeroing in on Tie Sing's culinary wizardry. Lo's illustrations have an appropriately faded look, neatly evoking both the times and the craggy wilderness. A frontier adventure that spotlights one of the many significant roles ethnic Chinese played in American history.
- Kirkus Reviews

This picture-book biography features a little-known Chinese American who ingenious meal planning was instrumental in the ultimate success of the National Parks Service. During a time when Asians in America had few or no rights, Tie Sing aims high. He takes "a job cooking for mapmakers as they tramped through the mountains, naming peaks," and his reputation for excellent cooking gets the attention of millionaire Stephen Mather, who hires Tie Sing to cook high-class, restaurant-style meals for 30 men on a backcountry tour of what is now Yosemite National Park, in an effort to secure political support for a federal parks program. Tie Sing's creature solutions to the problems of cooking on the trail are fascinating, and stories of minor disasters on the Yosemite tour highlight his ingenuity and resourcefulness. Paragraphs of straightforward text are more advanced than typical picture books, but the soft, expressive watercolor illustrations, some of which are based on historical photos, are a pleasing accompaniment. Ideal for the classroom, particularly this year, when the NPS celebrates its centennial.
- Booklist

Yosemite's Sing Peak honors Nevada-born backcountry chef Tie Sing. Chosen to be the chef for the Mather Mountain Party in 1915, Sing had to feed 30 men, some of whom were being wooed to back a plan for a national park service. Pimentel sets the stage by introducing readers to the inequality Chinese immigrants and Chinese Americans faced at the hands of white Americans. She fictionalizes, but modestly. This title stresses both Sing's foresight and his resourcefulness--resilience being necessary in this era of legal anti-Chinese discrimination. final pages provide extra historical information with period black-and-white photos. The illustrations are well suited for a read-aloud: lively, expansive (usually spreads), and with a bright magenta vest identifying the hero. Considering the overtly positive nature of the work, adult readers might stress that while Sing overcame the immediate setback of accidents, he could not be expected to defeat the systemic prejudice that deprived him--and other Chinese Americans and Chinese immigrants--of countless opportunities, no matter how big his dreams. Only two or three mules are depicted (not possibly enough for the job). Overall, this pencil and watercolor illustrated and eloquently written account of a Chinese American will satisfy every taste. For any library wishing to enhance its diversity and inclusion collection.
- School Library Journal
Charlesbridge, 9781580897112, 40pp.
Publication Date: August 2, 2016
About the Author
Annette Bay Pimentel's articles for children have appeared in Appleseeds and Highlights for Children.

Rich Lo is the author and illustrator of Father's Chinese Opera (Sky Pony Press), an honor title for the Asian/Pacific American Award for Literature in the Picture Book Category.